Use
Use this word game to add an element of fun and interactivity to a lesson. It works great with questions where youth can list a variety of single word answers.
Materials
Paper and writing utensil for each youth
Example As a game, give the youth 30 seconds to make a list of as many things as possible that must be "connected" in order to work properly.
Go around the group and have each person choose a word off their list that has not been chosen yet. S/he will get a point for each other person who has written that same word.
Everyone then crosses that word off the list.
Continue around until there are no more words left.
Reward the youth with the highest score.
Discussion
Why is being connected to Jesus so important in John 15?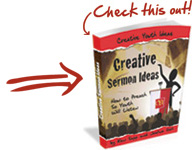 Get Help on Your Youth Sermons
Creative Sermon Ideas
This 100 Page e-Book Includes All The Help You Need To Prepare Powerful, Life-Changing Youth Sermons That Will Turn Your Preaching Around And Make Your Youth Sit Up And Listen! Includes 7 Complete Sermons.
–> I want More Youth Sermon Ideas…


| | |
| --- | --- |
| | Rate This Post by Clicking the Stars : |