With our days and nights we are each writing the novel of our lives. Each story is unique and has unexpected twists, surprising story arcs and a supporting cast. Every chapter has themes and character development. While the Author of Life started the story, we will write our own endings by the choices we make and the paths we take.
A good mentor is like a book editor. He will help us "read between the lines" for the hidden messages. He will help us to look within the pages, beyond the words and the events to the meaning and foreshadow the plot that lies ahead.
The mentor does not write the book, but reveals the plotlines in the books we are writing. The work of the mentor is "not to create but to notice, not to invent, but to discern."
Through mentoring we are helped to read our own lives with the delight of a novelist's audience. So sit back, relax, and enjoy the company of your mentor as you write a best-seller! Don't worry about the mistakes and the things you don't understand. The ending has yet to be decided. Just keep writing.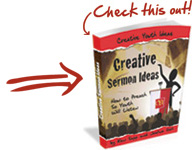 Get Help on Your Youth Sermons
Creative Sermon Ideas
This 100 Page e-Book Includes All The Help You Need To Prepare Powerful, Life-Changing Youth Sermons That Will Turn Your Preaching Around And Make Your Youth Sit Up And Listen! Includes 7 Complete Sermons.
–> I want More Youth Sermon Ideas…


| | |
| --- | --- |
| | Rate This Post by Clicking the Stars : |