An optomitrist does not invent light or create a patient's eyes; but he helps focus the patient's attention on the light that is already present. He uses various lenses and techniques to adjust the intensity and focus the light so that his patient has better vision.
Mentoring includes a process of looking into the life of another person and then teaching them to open their eyes and see what is there. It prevents them from seeing things from a single perspective, and allows them to see things in other dimensions. They are able to see life through the eyes of the mentor and through their own eyes.
The mentor must help the protégé to look back and notice things missed, to look through to see deeper meaning and connections in experiences, to look forward with imagination and to see dreams and possibilities. A mentor helps the protégé penetrate beneath the surface of his life and to see the inmost truth. Successful mentoring is a product of the ability to see beyond the surface to what is inside us and to respond.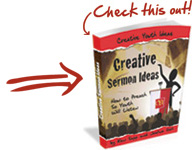 Get Help on Your Youth Sermons
Creative Sermon Ideas
This 100 Page e-Book Includes All The Help You Need To Prepare Powerful, Life-Changing Youth Sermons That Will Turn Your Preaching Around And Make Your Youth Sit Up And Listen! Includes 7 Complete Sermons.
–> I want More Youth Sermon Ideas…


| | |
| --- | --- |
| | Rate This Post by Clicking the Stars : |