Christmas Party Game Description:
The following words are taken from various songs associated with Christmas. Can you name the song?
Christmas Game Play
Read out the words, and the first person to stand up and begin singing the correct song gets a prize! If they guess the song you can give them a hint by singing the words to the correct tune.
Or, play as teams and give points to each team if one of the team members guesses the song.
Can you name the song?
A song, a song high above the trees, With a voice as big as the sea,
And He shall reign forever and ever, King of kings, forever and ever,
And there won't be snow in Africa this Christmastime
Be near me, Lord Jesus, I ask Thee to stay, Close by me forever, and love me, I pray;
Bells are ringing, children singing; All is merry and bright.
Born a King on Bethlehem's plain, Gold I bring to crown Him again,
But the very beasts could see, That He all men surpasses.
Christmas is here Bringing good cheer, To young and old, Meek and the bold
City sidewalks, busy sidewalks, Dressed in holiday style
Decorations of red on a green Christmas tree, Won't mean a thing if you're not here with me
Down to the village, With a broomstick in his hand
E'en so here below, below, Let steeple bells be swungen
Ev'ryone dancing merrily, in the new old fashioned way.
For a blessed Babe was born, Upon this day at the break of morn
For yonder beams a new and glorious morn
From now on, our troubles will be miles away.
Giddy-up jingle horse, pick up your feet
Give her a dolly that laughs and cries, One that will open and shut her eyes
Give ye heed to what we say: News! News! Jesus Christ is born today;
God with us is now residing; Yonder shines the infant light:
Hail the new year, lads and lasses
Here we come a-wan-der-ing, so fair – to be seen:
He's gotta wear his goggles 'cause the snow really flies
How do you measure its worth? Just by the pleasure it gives here on earth.
How Jesus the Savior did come for to die. For poor on'ry people like you and like I…
I have no gift to bring
I really do believe in you, Let's see if you believe in me
In Bethlehem, in Israel, this blessèd Babe was born,
In the meadow we can build a snowman, Then pretend that he is Parson Brown
It doesn't show signsof stopping, And I've bought some corn for popping
It seems so long since I could say, "Sister Susie sitting on a thistle."
it's grand, Just holding your hand,
Joyful, all ye nations rise, Join the triumph of the skies
Late in time behold Him come, Offspring of a virgin's womb.
Mary was that mother mild, Jesus Christ her little child.
Nails, spear shall pierce Him through, The cross be borne for me, for you.
Nine Ladies Dancing
Not only green when summer's here, But also when 'tis cold and drear.
O come, Thou Rod of Jesse, free, Thine own from Satan's tyranny;
O morning stars together, proclaim the holy birth,
O'er the fields we go, Laughing all the way
Oh, bring us a figgy pudding and a cup of good cheer:
On a bright Hawaiian Christmas Day
Once you pass it's borders, you can never return again!
Our Savior Christ and His lady, On Christmas day in the morning.
Oxen lowing, little knowing, Christ the Babe is Lord of all.
Please have snow and mistletoe, And presents under the tree.
Please put a penny In the old man's hat.
Prospero año y Felicidad
Radiant beams from Thy holy face, With the dawn of redeeming grace,
Robin, bring your fife, and come, And be merry while you play.
She didn't see me creep, Down the stairs to have a peep
She'd been drinking too much eggnog, and we begged her not to go.
Shepherds, why this jubilee? Why your joyous strains prolong?
Snowflakes in the air, Carols everywhere
Star of silver sweep across the skies, Show where Jesus in the manger lies.
Take a look in the five and ten glistening once again, With candy canes and silver lanes aglow.
The angels sang, the shepherds sang, The grateful earth rejoiced;
The world in solemn stillness lay, To hear the angels sing.
Then one foggy Christmas Eve, Santa came to say
There'll be parties for hosting, Marshmallows for toasting , And caroling out in the snow
They found no place to bear her Child, Not a single room was in sight
They looked up and saw a star, Shining in the east, beyond them far;
Till ringing, singing on its way, The world revolved from night to day,
Tiny tots with their eyes all aglow, Will find it hard to sleep tonight
To you, in David's town, this day, Is born of David's line
True God of true God, Light from Light Eternal,
Well I don't know if there'll be snow, But have a cup of cheer
While fields and floods, rocks, hills and plains, Repeat the sounding joy
While shepherds kept their watching, Over silent flocks by night
With every Christmas card I write, May your days be merry and bright
With little tin horns and little toy drums, Rooty toot toots and rummy tum tums
You gave me a diamond ring for Christmas, Now I'm living in paradise
Your brain is full of spiders, You've got garlic in your soul.
Answers
Do You Hear What I Hear?
Handel's Messiah
Do They Know It's Christmas?
Away in a Manger
Here Comes Santa Claus
We Three Kings of Orient Are
Unto Us a Boy is Born
Carol of the Bells
Silver Bells
Blue Christmas
Frosty the Snowman
Ding Dong Merrily on High
Rockin' Around The Christmas Tree
Fum, Fum, Fum!
O Holy Night
Have Yourself a Merry Little Christmas
Jingle Bell Rock
Up on the Housetop
Good Christian Men, Rejoice
Angels, From the Realms of Glory
Deck the Halls with Boughs of Holly
Here We Come a-Wassailling
Little Saint Nick
Silver and Gold
I Wonder as I Wander
Little Drummer Boy
Santa Baby
God Rest Ye Merry Gentlemen
Winter Wonderland
Let It Snow! Let It Snow! Let It Snow!
All I Want for Christmas Is My Two Front Teeth
Sleigh Ride
Hark! The Herald Angels Sing
Christ Is Born in Bethlehem
Once In Royal David's City
What Child Is This?
The Twelve Days of Christmas
O Christmas Tree
O Come, O Come, Emmanuel
O Little Town of Bethlehem
Jingle Bells
We Wish You A Merry Christmas
Mele Kalikimaka
Babes in Toyland
I Saw Three Ships Come Sailing In
Infant Holy, Infant Lowly
I'll Be Home for Christmas
Christmas is Coming
Feliz Navidad
Silent Night! Holy Night
Pat-A-Pan!
I Saw Mommy Kissing Santa Claus
Grandma Got Run Over by a Reindeer
Angels We Have Heard on High
Christmas Time Is Here
Calypso Carol
It's Beginning to Look a Lot Like Christmas
Gesu Bambino
It Came Upon a Midnight Clear
Rudolph the Red-Nosed Reindeer
It's The Most Wonderful Time Of The Year
Mary's Boy Child
The First Noël
I Heard the Bells on Christmas Day
The Christmas Song
While Shepherds Watched their Flocks by Night
O Come All Ye Faithful
A Holly Jolly Christmas
Joy to the World
Go Tell It on the Mountain
White Christmas
Santa Claus Is Coming To Town
Merry Christmas, Baby
The Grinch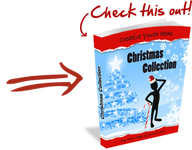 Christmas Collection


Games and Activities helping youth discover the Reason for the Season.
Get more than 200 creative ideas for planning a Youth Christmas celebration or Christmas Party party. You can immediately download my best Christmas Icebreakers, games, illustrations, Christmas activity ideas AND MUCH MORE in a useful ebook!
=> Tell me more about the Christmas Collection


| | |
| --- | --- |
| | Rate This Post by Clicking the Stars : |