Introduction
How well do you know the songs and carols commonly associated with Christmas?
Game Description
Common Christmas Tunes can be the foundation for a variety of Christmas games including "Name that Tune"
Christmas Name that Tune (Musical or by Lyrics)
Game Materials
If you are doing a musical name that you can either get a pianist to play the first few notes of a song, or you can have someone with a good musical voice to hum them. A modern day variation might be to collect the Midi files of common tunes to play from a computer. Here are a couple of sources for Christmas Midi Files:
For a lyrics based version you need to select some of the less familiar stanzas from the Christmas Songs. Here is a great site to get the lyrics:
http://www.mikeleal.com/christmas/songs.html
Game Preparation
Depending on how you intend to play, you either need the less familiar lyrics of Christmas songs, a piano, or the midi files.
Game Play
Musical Version:

Divide the group into two or more teams.
Teams must make a bid on how quickly they can identify the song.
If using a piano they can bid by notes…. i.e. "I can name that Christmas tune in 7 notes" or if my midi, by time.. "I can name that Christmas tune in 5 seconds."
Points can be awarded based upon the difficulty of the song.

Lyrics Version:

Divide the group into two or more teams.
Teams try to be the first one to hum the tune based upon the lyrics provided by you.
Read out the lyrics and the first team to correctly sing the song or hum the tune is awarded the points.
Points can be determined by the difficulty of the song.
Christmas Tune Team Hunt

Decide how many teams you want to have and choose one song for each team.
On pieces of paper, include the lyrics to the song. Cut them apart so that one line of the lyric is one one strip of paper. Mix them all together.
When participants arrive give each a random line of a song as contained on s strip of paper.
Participants must figure out what Christmas song it is and then hum the song and begin looking for others with the rest of the lyrics.
The first team to find all the words to a song wins.
This variation makes a great icebreaker and also serves as a crowdbreaker, randomly placing people in different teams for future games or activities.
List of Common Christmas Songs
A Holly Jolly Christmas
All I Want for Christmas Is My Two Front Teeth
Angels We Have Heard on High
Angels, From the Realms of Glory
Away in a Manger
Babes in Toyland
Blue Christmas
Calypso Carol
Carol of the Bells
Christ Is Born in Bethlehem
Christmas is Coming
Christmas Time Is Here
Deck the Halls with Boughs of Holly
Ding Dong Merrily on High
Do They Know It's Christmas?
Do You Hear What I Hear?
Feliz Navidad
Flemish Carol
Frosty the Snowman
Fum, Fum, Fum!
Gesu Bambino
Go Tell It on the Mountain
God Rest Ye Merry Gentlemen
Good Christian Men, Rejoice
Grandma Got Run Over by a Reindeer
Hallelujah Chorus
Handel's Messiah
Hark! The Herald Angels Sing
Have Yourself a Merry Little Christmas
Here Comes Santa Claus
Here We Come a-Wassailling
I Heard the Bells on Christmas Day
I Saw Mommy Kissing Santa Claus
I Saw Three Ships Come Sailing In
I Wonder as I Wander
I'll Be Home for Christmas
Infant Holy, Infant Lowly
It Came Upon a Midnight Clear
It's Beginning to Look a Lot Like Christmas
It's The Most Wonderful Time Of The Year
Jingle Bell Rock
Jingle Bells
Joy to the World
Let It Snow! Let It Snow! Let It Snow!
Little Drummer Boy
Little Saint Nick
Mary's Boy Child
Mary's Little Boy Child
Mele Kalikimaka
Merry Christmas, Baby
Most Wonderful Time of the Year
Mr. Grinch
Nutcracker Suite
O Christmas Tree
O Come All Ye Faithful
O Come, O Come, Emmanuel
O Holy Night
O Little Town of Bethlehem
Once In Royal David's City
Pat-A-Pan!
Rockin' Around The Christmas Tree
Rudolph the Red-Nosed Reindeer
Santa Baby
Santa Claus Is Coming To Town
Silent Night! Holy Night
Silver and Gold
Silver Bells
Sleigh Ride
The Christmas Song
The First Noël
The Twelve Days of Christmas
Unto Us a Boy is Born
Up on the Housetop
We Three Kings Of Orient Are
We Wish You A Merry Christmas
What Child Is This?
While Shepherds Watched their Flocks by Night
White Christmas
Winter Wonderland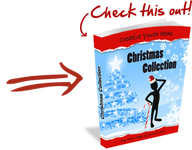 Christmas Collection


Games and Activities helping youth discover the Reason for the Season.
Get more than 200 creative ideas for planning a Youth Christmas celebration or Christmas Party party. You can immediately download my best Christmas Icebreakers, games, illustrations, Christmas activity ideas AND MUCH MORE in a useful ebook!

=> Tell me more about the Christmas Collection


| | |
| --- | --- |
| | Rate This Post by Clicking the Stars : |