She's gone.
Pretty, young, and promising.
All of life ahead.
Always eager to please us.
Bubbly, never withdrawn.
Enough self-confidence for the whole world.
So suddenly it took her.
We weren't prepared though we were told it would happen soon.
It crept up on us so unexpectedly.
One day everything was fine.
Overnight our lives were dramatically changed.
We've talked with others who have experienced the same loss.
It helps.
What, you sympathetically ask, happened to our precious child?
ADOLESCENCE! Need I say more!This poem was sent to me by a friend many years ago. It expresses humorous thoughts from a parent on the transition from childhood to adolescence. A universal question among parents is, "Where has my child gone?" "Who replaced my child with this teenager?"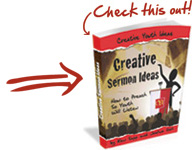 Get Help on Your Youth Sermons
Creative Sermon Ideas
This 100 Page e-Book Includes All The Help You Need To Prepare Powerful, Life-Changing Youth Sermons That Will Turn Your Preaching Around And Make Your Youth Sit Up And Listen! Includes 7 Complete Sermons.
–> I want More Youth Sermon Ideas…


| | |
| --- | --- |
| | Rate This Post by Clicking the Stars : |