There is a difference between a Christian home and a religious home. A religious home focuses upon the requirements of being a Christian, whereas a Christian home focuses on the relationship with God. Here are some of the characteristics of a Christian home:
A Christian home is not legalistic but instead there is genuine intimacy and communication of God's love and his desires for us.
Family devotionals need to be a part of the family, but flexible, invigorating, full of variety and life. What a shame it is when we bore or burden our teens with religion rather then sharing the joy and love of serving God and growing in intimacy with Him!
As parents we need to live by example – More is Caught than Taught. Principles mean little to a teen… example means everything! Those who are the best examples are not the ones supposedly living perfect Christian lives, but those who allow teenagers to look in and see what life is really like.. the struggles, the triumphs, the desire to grow. Expose youth to good models in other adults as well among your church members and friends.
A teen's view of God as the Father is often affected by earthly fathers. As father's are we seeking to live in the example of the Heavenly Father?
Perception is reality to teens… Don't say the perception is false and ignore it… deal with the perceptions. Don't see questions and doubts as threats but as opportunities to understand. Struggles are part of our spiritual journey.
Don't pretend to be perfect in your Christianity… be honest about your own faith and they will know that you are real… youth see hypocrisy quicker than anyone.
Put a voice to your personal values and convictions and back them up by seeking to live by them.
Remember that faith is a relationship with God, not a complete understanding. You don't have to understand everything for your faith to make a difference. We use so much technology today that we don't fully understand… the real issue is not how does it work, but instead how does it work for me. How does it make a difference in my life.
Remember you cannot expect others to do your parenting work for you when you as a parent are the greatest influence on a child's life. If you were to examine your life you will find things being transfered to your children… but very often it is our bad habits rather than our faith. Inspire your child. Spirituality is not demanded or forced but inspired and encouraged and nurtured.
"Today's church dropouts are not the kids; but their the parents. You can't teach what you don't know any more than you can come from where you have never been." -Adrian Rogers If you want to see your child grow in their faith, you need to be GROWING in yours.
You cannot do anything to be absolutely sure your teens will accept Christ because God gave each of us free will. But we can pray and live it ourselves daily!!
Dt. 6:6-9 Talk about your faith at any time of the day (Note there is a difference between talking with someone and preaching!) Have a willingness to share plus a mental readiness to share when the time is right. If we want our children to desire the faith we have we must show its attractiveness… is the Christian life truly the abundant life for you or a burden.
Make your home a place where other Christian teens are invited and welcome. Teens choose peers with needs similar to their own and as such can provide a clue to your teens needs and desires.
Instead of getting defensive, as parents we must admit we are depending on Christ in our own weaknesses. Scripture teaches us to be vulnerable: "Not that we are competent to claim anything for ourselves, but our competence comes from God." II Cor 3:5 Be real. You don't have to be a superhero to be a positive spiritual influence in the life of a youth!
Actually, while these truths are critical principles for parents, they are true for anyone who wants to make a positive difference in the lives of youths. That includes youth leaders, teachers, mentors, and anyone that has regular contact with teens.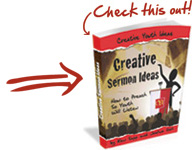 Get Help on Your Youth Sermons
Creative Sermon Ideas
This 100 Page e-Book Includes All The Help You Need To Prepare Powerful, Life-Changing Youth Sermons That Will Turn Your Preaching Around And Make Your Youth Sit Up And Listen! Includes 7 Complete Sermons.
–> I want More Youth Sermon Ideas…


| | |
| --- | --- |
| | Rate This Post by Clicking the Stars : |