Here are some suggestions to help parents and youth workers to effectively teach young people how to handle disappointments that occur in their daily lives:
Try to see situations from the child's point of view as well as your own.
If you are responsible for setting up an expectation the child has, then own that and take steps to set up and expectation that is better for both of you.
To make the change to more realistic expectations validate the child's feelings of disappointment
Relate a time when you experienced disappointment
Verbalise the feelings. Show the child the words that describe the feeling as this will help them describe theirs.
Enable the child to see that our feelings do not have to equal our actions.
Ask questions like:

Do you feel disappointed some sometimes?
Do you feel disappointed because we usually do this and today we aren't?
Does that make you feel frustrated?
Does it make you feel angry?

Choose your words carefully and emphasise the word 'FEEL'. "When this happens, DO YOU FEEL ANGRY?" This question implies that anger is a feeling…not an action. It's a completely different question to "When this happens ARE YOU ANGRY", which implies angry actions which we do not want the child to engage in. What you ultimately want is for your child to recognise their emotions and over time learn how to decide on appropriate and effective positive actions. This is a very empowering process that develops with practice and allows the child to feel in control of themselves.

Model how you handle disappointment. Verbalise your own mental processes when you are experiencing disappointment.
And lastly, if you know a situation is coming up that will be naturally disappointing to the child, then prepare your child:

Let them know what's going to happen so they don't let their anticipation build.
Validate that this will be disappointing for them. This implies that it's OK to feel disappointed but that you expect they will know how to handle the feeling…that you have confidence in them and this gives them personal power to cope.
Do not bribe them to pacify them. This implies you do not have confidence in them and removes their personal power to cope.
Helping children and youths to handle the emotion of disappointment does not take any more time than not helping them to handle the emotion of disappointment. In fact, it may save you time, help your relationship and empower your child to experience more happiness in their life.
By Vicki Jardine, Director of Highly Successful Kids.
You can catch up with Vicki at:
/highlysuccessfulkids.com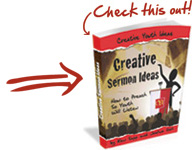 Get Help on Your Youth Sermons
Creative Sermon Ideas
This 100 Page e-Book Includes All The Help You Need To Prepare Powerful, Life-Changing Youth Sermons That Will Turn Your Preaching Around And Make Your Youth Sit Up And Listen! Includes 7 Complete Sermons.
–> I want More Youth Sermon Ideas…


| | |
| --- | --- |
| | Rate This Post by Clicking the Stars : |