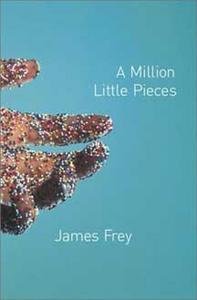 This book is wonderful. It's a biography of how James Frey was saved from the deepest pit of addiction. Read it if you're in need of inspiration to carry on with the call that God has placed in your life.
A Million Little Pieces is a memior of James Frey's six weeks experience at treatment center for addictions. It's a recollection of his recovery. At 23, doctors at the center told him that if he abused his body anymore, he would die. He battled with drugs and alcohol addiction and was wanted man in 3 states.
Frey orginally from Cleveland currently lives with his wife in New York. It's been 13 years that Frey has been sober.
Reading A MillIon Little Pieces is heart and gut wrenching. The writing is honest. It's about friendship, love, believe. A New York Times Bestseller and An Oprah Bookclub choice, I've got no regrets adding this to my library.
Warning: This book will cause you to have sleepless nights because you cannot put it down.


MORE IDEAS? See "Creative Object Lessons"
200 page e-book that explains everything you need to know when planning your very own object lessons. It contains 90 fully developed object lesson ideas and another 200 object lesson starter ideas based on Biblical idioms and Names / Descriptions of God.


| | |
| --- | --- |
| | Rate This Post by Clicking the Stars : |