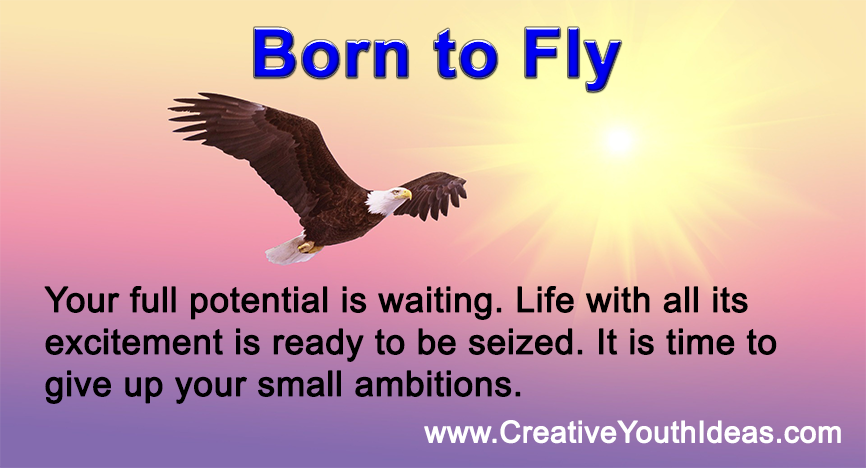 Once, there was a blizzard high in the mountains. A nest, near the summit, broke apart in the fierce winds. A single eagle's egg fell out and slid down the side of the mountain on the snow. Miraculously, it was not broken as it careened down rocky slopes all the way into the valley below.
It came to rest, unscathed, in the tall grass near a nest of prairie chickens. The prairie chicken mother noticed the egg. Thinking it was one of her own that had fallen out, she picked it up and put it in her nest.
In time it hatched with the prairie chicks and grew up among them. The young eaglet grew very large and very powerful. Though he certainly didn't look like a Prairie Chicken he acted like one.
He scratched in the dirt for seeds and insects to eat. He clucked and cackled. And he flew in a brief thrashing of wings and flurry of feathers no more than a few feet off the ground. After all, that's how prairie chickens were supposed to fly.
One day, the little eagle and his prairie chicken siblings were out chasing bugs in the grass. A huge shadow fell over the land. They all looked up and saw the majestic sight of an eagle soaring high in the cloudless sky. Hanging with graceful majesty on powerful winds, it soared with scarcely a beat of its strong golden wings.
One of his "brothers" said, "I see that look in your eyes. You could never fly like that. The eagle is the greatest of all the birds. YOU ARE A PRAIRIE CHICKEN."
For a moment, the little eagle thought he would bolt up out of the prairie chicken world and do great aerial exploits with the eagles. Then the thought passed. "You're right," he said. "I'm just a prairie chicken."
He returned to looking for seeds and grubs, pecking out a mere existence. The eagle spent his whole life looking up at eagles, longing to join them among the clouds. It never once occurred to him to lift his wings and fly. The eagle died thinking it was a prairie chicken.
You can fly like an eagle or dig around in the dirt like a prairie chicken. Don't listen to those around you. You were created to fly. Your full potential is waiting. Life with all its excitement is ready to be seized. It is time to give up your small ambitions. It's time to take a leap like an eagle, to stretch your wings, to rise above the mountains and soar through the clouds.
Choose to fly!
TAKE IT TO THE NEXT LEVEL
Make it Practical
What are some of the things we hear from others around us?
What are some of the labels people place on us?
What are some of the positive and negative messages we hear today?
Make it Spiritual
You were born to fly. But some of you think and act like prairie chickens because the world keeps telling you that's what you are. God created you "a little lower than the angels." Do you ever feel like there's something more to life than what you are experiencing? Look up! Lift your wings and fly! God wants you to be all that you were created to be. The apostle Peter writes in I Peter 1:14, "As obedient children, do not conform to the evil desires you had when you lived in ignorance." In other words, "Stop living like eagles who think they are prairie chickens." You are no longer ignorant. You know who and what you are. You are born again through the living and enduring Word of God. Now live that way. Spread your wings and fly.
What are some of the things the Bible says about us?
What are some things God says about us?
How should these things influence the life that we live?
Make it Personal
What messages do you hear that have the greatest impact on you?
How can we respond to the messages of the world around us?
How do we respond the messages from God?
Name one piece of advice you think God would give you today.
Scripture Verses
1 Corinthians 2:9 – "However, as it is written: 'What no eye has seen, what no ear has heard, and what no human mind has conceived'— the things God has prepared for those who love him." (NIV)
Isaiah 40:31 – "but those who hope in the Lord will renew their strength. They will soar on wings like eagles; they will run and not grow weary, they will walk and not be faint." (NIV)
Ephesians 3:20 – "Now to him who is able to do immeasurably more than all we ask or imagine, according to his power that is at work within us" (NIV)
Mark 10:29-30 – "'Truly I tell you,' said Jesus, 'no one who has left home or brothers or sisters or mother or father or children or fields for My sake and for the gospel will fail to receive a hundredfold in the present age — houses and brothers and sisters and mothers and children and fields, along with persecutions — and to receive eternal life in the age to come.'" (NIV)
Psalm 84:11 – "For the LORD God is a sun and shield; the LORD bestows favor and honor; no good thing does he withhold from those whose walk is blameless." (NIV)
Matthew 7:24-27 – "Therefore everyone who hears these words of mine and puts them into practice is like a wise man who built his house on the rock. The rain came down, the streams rose, and the winds blew and beat against that house; yet it did not fall, because it had its foundation on the rock. But everyone who hears these words of mine and does not put them into practice is like a foolish man who built his house on sand. The rain came down, the streams rose, and the winds blew and beat against that house, and it fell with a great crash." (NIV)
Psalm 8:3-8 – "When I consider your heavens, the work of your fingers, the moon and the stars, which you have set in place, what is mankind that you are mindful of them, human beings that you care for them? You have made them a little lower than the angels and crowned them with glory and honor. You made them rulers over the works of your hands; you put everything under their feet: all flocks and herds, and the animals of the wild,
the birds in the sky, and the fish in the sea, all that swim the paths of the seas." (NIV)
Hebrews 2:7 – "You made them a little lower than the angels; you crowned them with glory and honor." (NIV)
1 Peter 1:14 – "As obedient children, do not conform to the evil desires you had when you lived in ignorance." (NIV)

| | |
| --- | --- |
| | Rate This Post by Clicking the Stars : |