He motioned toward me, and I responded, kneeling again before Him. Handing me the necklace, He explained, 'This vial will contain the essence of Myself; a Seed to be placed in the womb of a young girl. Her name is Mary. She lives among my chosen people. The fruit of the Seed is the Son of God. Take it to her.'
'But how will I know her?' I asked.
'Don't worry. You will.'
I could not comprehend God's plan, but my understanding was not essential. My obedience was. I lowered my head, and He draped the chain around my neck. Amazingly, the vial was no longer empty. It glowed with
Light.
'Jesus. Tell her to call My Son Jesus.' … .
On a wave of worship I flew, this time alone. I circled through the clouds and over the ground. Below me was the city where Mary was born. The Father was right; I knew her in an instant. Her heart had no shadow. Her
soul was as pure as any I've seen.
I made the final descent. 'Mary.' I kept my voice low so as not to startle her.
She turned but saw nothing. Then I realized I was invisible to her. I waved my wings before my body and incarnated. She covered her face at the Light and shrank into the protection of the doorway.
'Don't be afraid.' I urged.
The minute I spoke, she looked up toward the sky. Again I was amazed.
I praised My Father for His wisdom. Her heart is so flawless, so willing. 'Greetings. God be with you.'
Her eyes widened, and she turned as if to run. 'Mary, you have nothing to fear. You have found favor with God ….
'Yes, I see it all now; I'm the Lord's maid, ready to serve. Let it be with me just as you say.'
As she spoke, a Light appeared in her womb. I glanced at the vial. It was empty." [The Angel Gabriel]
Max Lucado- "Cosmic Christmas"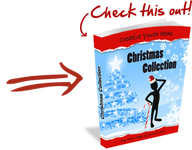 Christmas Collection


Games and Activities helping youth discover the Reason for the Season.
Get more than 200 creative ideas for planning a Youth Christmas celebration or Christmas Party party. You can immediately download my best Christmas Icebreakers, games, illustrations, Christmas activity ideas AND MUCH MORE in a useful ebook!

=> Tell me more about the Christmas Collection


| | |
| --- | --- |
| | Rate This Post by Clicking the Stars : |