God wants to include each of us in His plan for the world. But how will we respond? When we look at the events of the Christmas story we can see a few possible responses.
DOUBT – Zechariah (Luke 1:5-22)
God spoke to Zechariah of his plan through the angel Gabriel. When first told of God's plan, Zechariah DOUBTED it. He didn't believe God's promise. "We are too old." "How can God use us?" "This is not possible" we don't know all his thoughts, but we do know that the angel Gabriel saw doubt in his heart. Zechariah, a man of God obediently serving God in the temple, presenting an offering of incense to God, still wondered if God can do what he said he would do. Later after the promised child was born, he had learned his lesson and trusted that his child was indeed the one promised by God by confirming the child's name as John, just as Gabriel had told him. God has great power and will do what he says!
AWE – Elizabeth (Luke 1:23-25, 45)
As far as we know from scripture, God did not speak to Elizabeth directly about his plan for her. It is never mentioned in scripture whether Elizabeth knew of God's personal plan or whether her husband Zechariah said anything to her about the promise of God to them as a couple. She not only had no word from God, but because she was barren, she was seen as lacking God's favour. No word from God and by her circumstances it seemed that God was unhappy with her. But when she recognised she was pregnant she immediately credited it to God's favour upon her. Later, she met Mary, who was also pregnant and the unborn baby, John, jumped for joy in her womb and Elizabeth was filled with the Holy Spirit and cried out with a loud voice "Blessed are you among women, and blessed is the fruit of your womb!" While no word from God had come to her, God used her to proclaim God's promise and blessings to Mary! Whether she completely understood God's plan or not, we do not know, but she was in AWE of what God was doing and humbled to be included in his plan!
SUBMISSION – Mary (Luke 1: 26-38)
Mary, when first told of God's plan, SUBMITTED to it. She yielded her life to God's plan and made herself available for God to use. Like Zechariah, she had questions, but her questions were different from those of Zachariah. "How is this possible?" The angel Gabriel saw no doubt in her heart, but she didn't understand how it was going to be done. She knew, as the angel Gabriel reminded her, "With God, nothing is impossible", and responded, "I am your servant, may it be done to me according to your Word!" and then she PRAISED God for it. She was committed to let God use her, even when she did not understand his reasons.
OBEDIENCE – Joseph (Matthew 1:18-25)
As far as we know, Joseph knew nothing of God's plan until Mary began to show signs of the pregnancy. As he was betrothed to Mary, he was faced with very difficult circumstances. His "wife to be" was pregnant, and he knew he was not the father. From human understanding, this could only be a result of unrighteousness on Mary's part. We do not know whether Mary had explained God's role in things to him or not, but we do know that he responded to the difficult circumstances in a way that was righteous! While the law allowed Mary to be stoned for adultery, he instead decided that he would send her away so that she would not be disgraced. His first response to a seemingly unrighteous situation that he did not understand was that of a righteous man. It was only after Joseph's righteous response to the situation and circumstances that God spoke to him directly through an angel in a dream and revealed his plan. Joseph responded to the plan in OBEDIENCE, took Mary as his wife, and named the child Jesus.
WORSHIP – Magi (Matthew 2:1-12)
Magi were scholars. We don't know the details of their understanding of events, but we do know that they came expecting a "King of the Jews." They came with the intention to WORSHIP this king. Somehow they knew that a star, seen in the sky, was a sign that this king would be born and somehow would reveal his location. We really do not know how God revealed this information to them, but somehow, likely through written texts, they had some limited understanding of God's plan. But it is clear they only had a little of the information. They did not know all the details. Based on that limited knowledge they set out to find this King of the Jews to WORSHIP him. Then God used a ruthless King Herod to add to that knowledge and give them more precise instructions to find Jesus. They followed both the star and the instructions given to them until they found the child. In great Joy, they fell to the ground and worshipped him and then presented him with gifts! God then spoke to them directly in a dream and they obeyed the instructions given that they should not return to Herod.
EXPERIENCE IT – Shepherds (Luke 2:8-20)
The shepherds were ordinary men going about the everyday realities of their occupation. They were not scholars or priests. We do not even know whether they were religious or not. It was not in a morning worship service in the temple that God revealed himself! It was late at night while they were watching over their flocks in the field that God revealed his plans to them through an angel. God not only revealed his plan, but also gave them signs to guide them. Their immediate response was to quickly go and see for themselves what God was doing! They immediately dropped what they were doing and quickly went to EXPERIENCE the baby Jesus who was to be a Saviour for them personally and to all people. They told everyone about the plans of God as revealed and promised to them! They then went back to their jobs tending the flocks, but they had experienced God's work firsthand and responded by glorifying and praising God. No doubt that for many of those shepherds, that encounter with God and Christ would be an event that defined them and continued to be talked about for the rest of their lives, whether they were going about their jobs, or when with family and friends.
????????? – YOU?
How does God speak to you? Directly? Through dreams? Through knowledge, wisdom, or scripture? Through events and circumstances? Through other people – the righteous or even the ungodly? Or maybe like Elizabeth, does it seem that God has forgotten you? Why is God silent? Where are the blessings the scriptures have promised in your life? Does your life seem ordinary as you go about the daily routines of your job? The Christmas story reminds us that God speaks to us in many different ways and circumstances. And even should he remain silent, God's promises remain true. God wants us to join Him in his plan for the world! How will you respond to God's plan for you?
Will you doubt? Will you respond in humble awe that God has included you? Will you submit your life to him as his servant? Respond in obedience? Will you respond to what God has revealed to you, even if you do not know all the details or how it will be done? Will you overflow with Worship and Praise as you experience Him for yourself and His purpose in your life?
This Christmas, what is God saying to you? What will your response be?
(c) Ken Sapp – Christmas 2007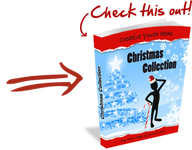 Christmas Collection


Games and Activities helping youth discover the Reason for the Season.
Get more than 200 creative ideas for planning a Youth Christmas celebration or Christmas Party party. You can immediately download my best Christmas Icebreakers, games, illustrations, Christmas activity ideas AND MUCH MORE in a useful ebook!
=> Tell me more about the Christmas Collection


| | |
| --- | --- |
| | Rate This Post by Clicking the Stars : |