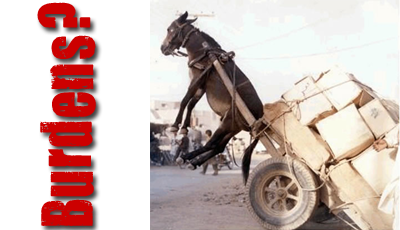 Burdens

I took a burden to the Lord
To cast and leave it there.
I knelt and told Him my plight,
And wrestled deep in prayer.
But rising up to go my way
I felt a deep despair,
For as I tried to trudge along,
My burden was still there!
Why didn't you take my burden, Lord?
Oh, won't you take it please.
Again I asked the Lord for help,
His answering words were these:
My child, I want to help you out
I long to take your load
I want to bear your burdens too
As you walk along life's road.
But this you must remember,
This one thing you must know. . .
I cannot take your burden
Until you let it go.
Author: Betty Curti
Take it to the Next Level
Children may live a carefree life, but as we grow older we are increasingly burdened with responsibilities. In the teenage years there is often a struggle to balance responsibilities and the freedom of youth. Sometimes as a teen, the changes associated with life seem overwhelming. Youth are struggling with personal identity, relationaships, finding meaning and a purpose for their existence, and independence.
Some of the burdens common to youth (in no specific order) are:
Mature Relationships in the home, among friends, at school or work, with the opposite sex – How should I relate to others?
Acceptance of his / her body – Am I comfortable in my own skin?
Sexual Identity – How do I relate to the opposite sex?
New ways of thinking / understanding / wisdom – How should I choose?
Emotional Independence – How do I feel?
Financial Independence – How do I pay for it?
Vocational Choices – What career should I pursue?
Personal Values – What is 'Right' for me?
Personal Discipline / Sin- How do I control my behavior and habits?
Personal Identity – Who Am I?
Increasing Responsibilities – Can I handle this?
Personal Ministry – How do I serve God?
Personal Loss – How do I deal with loss?
Life's Disappointments – How do I deal with disappointments in life and from other people?
Dealing with Change – How do I adjust?
Coming to terms with the Past, Present, and future – How do I respond?
Typical Youth Responses to burdens
Complain
Stress
Doubt
Despair
Withdrawal
Cling
Trust
Avoidance
Escape
AND MORE!
Truths for Dealing with Burdens
God is in control and has a purpose for everything
God will not give you more than you can handle together with Him. He will help us to bear our burdens.
God uses circumstances to build our character.
We need to trust God, and place our burdens into His loving care, and leave it there.
We need to Focus on God and not our problems.
We need to help others carry their burdens.
Scripture References
"Come to me, all you who are weary and burdened, and I will give you rest. Take my yoke upon you and learn from me, for I am gentle and humble in heart, and you will find rest for your souls. For my yoke is easy and my burden is light." – Matthew 11:28 (NIV)
"Cast your cares on the LORD and he will sustain you; he will never let the righteous fall." – Psalm 55:22 (NIV)
"Cast all your anxiety on him because he cares for you." – 1 Peter 5:7 (NIV)
"Praise be to the Lord, to God our Savior, who daily bears our burdens. Selah" – Psalm 68:19
"Carry each other's burdens, and in this way you will fulfill the law of Christ." – Galatians 6:22
"Peace I leave with you, my peace I give unto you: not as the world giveth, give I unto you. Let not your heart be troubled, neither let it be afraid." – John 14:27
"And you experts in the law, woe to you, because you load people down with burdens they can hardly carry, and you yourselves will not lift one finger to help them." – Luke 11:46
"For this is the love of God, that we keep His commandments; and His commandments are not burdensome." – 1 John 5:3 (NASB)
"Therefore, since we are surrounded by so great a cloud of witnesses, let us also lay aside every weight, and sin which clings so closely, and let us run with endurance the race that is set before us," – Hebrews 12:1

| | |
| --- | --- |
| | Rate This Post by Clicking the Stars : |