This Thanksgiving Quote comes from Abraham Lincoln:
.

.. Abraham Lincoln was a man who learned to face discouragement and move beyond it. Did you know that it was Abraham Lincoln who, in the midst of the Civil War, in 1863, established the annual celebration of Thanksgiving?
Lincoln had learned how important it is to stop and thank God in the midst of great difficulties.
"We have been the recipients of the choicest bounties of heaven; we have been preserved these many years in peace and prosperity; we have grown in numbers, wealth and power as no other nation has ever grown. But we have forgotten God. We have forgotten the gracious hand which preserved us in peace and multiplied and enriched and strengthened us, and we have vainly imagined, in the deceitfulness of our hearts, that all these blessings were produced by some superior wisdom and virtue of our own. Intoxicated with unbroken success, we have become too self-sufficient to feel the necessity of redeeming and preserving grace, too proud to pray to the God that made us.
It has seemed to me fit and proper that [the gifts of God] should be solemnly, reverently, and gratefully acknowledged with one heart and one voice by the whole American people. I do, therefore, invite my fellow citizens . . . to set apart and observe the last Thursday of November next as a day of thanksgiving and praise to our beneficent Father who dwelleth in the heavens."
You can find more Thanksgiving Quotes Here!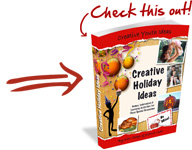 Holiday Collection


Games and Activities in Celebration of common Holidays.
Creative Holiday Ideas has over 300 pages of ideas to help you plan your next New Year's Day, Valentine's Day, Mother's Day, Father's Day, Halloween or Fall Festival, and Thanksgiving event. If you've ever wondered what you're going to do for all these holidays and how you're going to do it, this resource is for you.
=> Tell me more about the Holiday Collection


| | |
| --- | --- |
| | Rate This Post by Clicking the Stars : |