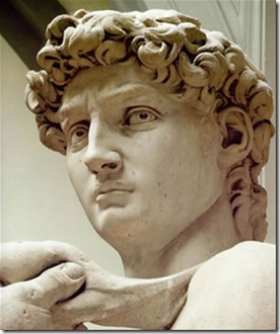 Michelangelo is famous for his work as a sculptor and painter. Although he started 44 statues, he finished only 14. He is best remembered for his sculptures of David and also of Moses. But 30 of his sculptures are left unfinished.
As creative as Michelangelo was, he is surpassed by a more awe-inspiring sculptor. This creator has more works than you can count. You are one of them. Scripture says, "We are God's workmanship, created in Christ Jesus to do good works." (Ephesians 2:10)
With the Creator claiming us as His workmanship, why do so many of us feel unfinished? Why do so many people feel like chunks of stone waiting for the right person to recognize the potential inside of us?
Paul prayed for the saints at Philippi, "Being confident of this, that he who began a good work in you will carry it on to completion until the day of Christ Jesus." (Philippians 1:6)
Are you confident that God is sculpting you, molding your character, shaping you to be like His Son? Are you as confident as Paul that God is a faithful, persistent Creator that will not stop until His work in you is complete? Or do you listen to that internal voice of condemnation that thrives on doubt, fear and discouragement?
Spend some time yielding your life to the Master to shape and mold you, to renew your mind, to complete the good work for which He has created you.


MORE IDEAS? See "Creative Object Lessons"
200 page e-book that explains everything you need to know when planning your very own object lessons. It contains 90 fully developed object lesson ideas and another 200 object lesson starter ideas based on Biblical idioms and Names / Descriptions of God.


| | |
| --- | --- |
| | Rate This Post by Clicking the Stars : |