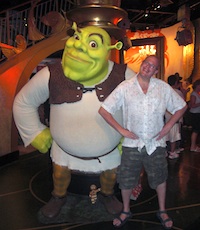 Description
In every youth group, there will be opportunities to celebrate the birthdays of your teens. Here is a Birthday Party theme with one of my favorite animated characters.
Decoration Ideas
Poster board cut and decorated to look like castle windows.
A poster on the Door saying: Welcome to the land of Far Far Away
Cut out poster board to look like Shrek and Fiona's carriage (garlic clove of Garlic).
Shrek soft toys and plushies.
Cover your table with a bright yellow table cloth. Scatter green sequins all around the top. – Run strips of green and purple streamers down the center to create a table runner.
If your party is for younger youth or children, build a castle using a large appliance box and small boxes on-top. Cut a door and windows. Paint the entire castle with gray paint. Alternatively, decorate the box to look like a tree stump with windows. The children can use this for playtime and you'll be able to keep it for your lucky birthday child! And it's a great decoration for a youth party too!
Party Hat Ideas
Greet Everyone at the door with their very own pair of Ogre Ears.
Materials

Large sheets of light and dark green Craft Foam or construction paper.

Craft glue or a hot glue gun.
Headbands

Instructions

Cut two shrek ears and two small triangles for the inside of the ears.
Attach the small triangles to the ears with a glue gun.
Then attach the ears to the head band with the glue gun.
Food Ideas:
Ginger Bread Man Cookies
Roasted Turkey Legs
Roasted Garlic Cloves
"Worms" in red swamp mud (Spaghetti Bolognese)
Soda with green food coloring
Game Ideas:
Pin the Wings on the Donkey
Just like Pin the Tail on the Donkey, but you'll need to make wings with construction paper or craft foam sheets.
Enlist an artistic teen to draw a Donkey on poster board … they are much cuter that the donkey in the traditional game.
Prince Charming Tag
Designate a Prince Charming. That player will wear a crown.
When you say go…the guests will try to catch the Prince.To make it more difficult for youth, blindfold them and have prince charming quote lines from the movie. Youth follow the voice and try to tag prince charming.
Cupcake Walk
Let youth draw and color a picture of their favorite Shrek character on squares of heavy paper.
Tape the squares to the floor in a circle, using one fewer than the number of participants.
The birthday youth gets to start and stop the music at appropriate times during the game.
When the music starts, like in the traditional musical chairs, the teens walk from square to square.
When the music stops, the youth left without a square is out of the game but gets a cupcake.
Play continues until one player is left.
Award a prize to the winner, along with a tasty cupcake.

| | |
| --- | --- |
| | Rate This Post by Clicking the Stars : |