Face Painting as a Hobby or Fundraising Activity
Face painting can liven up any children's event and add an element of fun and humor to it; not to mention aesthetic appeal. While a lot of people enjoy the art form as a hobby; others have taken it up as a profession or as a fundraiser, with ten hours spent painting gleeful faces in a variety of colors at halloween or fall festival carnivals, birthday parties for children and youth. Regardless of whether you want to try out your face panting skills at the children's events you host at home or have turned the art form into a money making fundraiser; here are some valuable tips on face painting that will come in handy. Also included are some safety considerations, information on how to find designs that will find favor with children, paint applying tactics and more.
Face Painting tips: Where can you get the supplies?
If you are a pro at face painting, you may already know the best stores to go to in order to stock up on your face-painting supplies. However, if you have just ventured into the colorful world of this art form; the best place to find the materials you need is a local hobby shop. Try to get your face painting box ready with items such as brushes (soft and of different thickness and width); regular paint brushes should work fine here, sponges, paints and glitter.
Face painting designs for children
If you are a novice face painter, start with simple designs; what can be easier than balloons and flowers? Besides the hypo allergenic paint that is used to create the designs and the twinkiling eyes and excited smile on your canvas; there isn't a lot of difference between face painting and regular 'on paper' painting. As a matter of fact, if you have always been dexterous with a painting brush, you should have no trouble mastering the art of face painting.
Face Painting Balloons
When trying to paint a balloon, you simply have to follow the natural contour of the child's face to make an oval shape with a paint brush. Next, use a sponge to fill in the desired color; anything from blue to pink and even neon shades go well here. You can also add polka dots or any other design with a thin paint brush. Just remember to be careful when applying the paint around the child's eyes.
Face Painting Flowers
The next theme to try out would be a colorful bouquet of flowers; for this design, you will need at least 3 to 4 colors for the flowers; use red, pink, white and even purple. Then, you will also have to apply a lot of green for the leaves. Start by making the flowers; try to get a few on the child's cheeks; at least one on the nose and 2 or 3 on the child's forehead. Use a fine paint brush for the dark outline of the flowers and fill color in the petals with a sponge or even with a thick brush. Use a brush dipped in green paint for the leaves; apply some pressure to create longer or shorter leaves as desired.
Face Painting Other Designs
Other popular face painting designs for children include a butterfly; tiger, lion, Dalmatian, pirate etc. There are several online resources that have in depth information on how to create these face-painting designs. Also, you don't have to master all of them; just practice two or three good ones and make them in a variety of colors. For instance, a tiger can be painted in the characteristic yellow and orange or you could get experimental and go for a blue, red or even a pink tiger; children absolutely adore these..
Face Painting Tips
Choose the right Paint
Paints are available in both tubs as well as stick forms; if you have just started experimenting with face painting, you should use stick paints while tub colors are suitable for professionals. Either way, it is essential to remember that these paints are quite expensive, so store them properly once you are done and don't let children get their hands on them.
Use your sponges
Sponges work better when you need to apply a base coat of paint to a child's face or even when you have to cover a large area of the face with color. They are easy to use and quick. Always use different sponges for the different colors so that you do not waste time trying to wash out the color from a sponge.
Patience
This is the key word when trying to master face painting; when working with two colors, always wait for the first layer of paint to dry before applying the second coat. If you hurry through this phase, the colors will mix, creating a mess and you will need to wipe off the paint and start over. Also, always remember to use a thin layer of paint, go for two coats if necessary.
Have a clear idea about the design
Visualize the picture or design that you are trying to create as you apply layer after layer of paint to the child's face. You should know exactly what you are trying to create; as a matter of fact, it is always a good idea to keep a picture on your desk. Trying to make things up as you go along simply isn't going to work in this case.
Use stencils
If you are not good at freehand drawing, you can easily use stencils to create fantastic designs without a lot of effort. These are particularly handy when painting the faces of a lot of eager children.
Go for special effects
The paint used will usually also work as a basic glue to create bumps on the child's nose or even big, thick eyebrows. Just soaks some cotton wool in the paint and place on the faces of the children, cover this with some tissue and paint as normal. Wheat and puffed rice can be used to make warts, use the same technique and add a dusting of flour for a ghostly effect.
Safety tips when face painting children
Always use hypo allergenic and non toxic paint: Only use paints that have been certified for usage on the skin; just because hobby paints come with the term 'non-toxic' on their packaging does not make them safe for face painting.
Only use cosmetic glitter on the face.
Do not paint the faces of children who suffer from rashes or other skin conditions that may be contagious or which may get aggravated due to the paint.
Use a skin friendly, antiseptic and antibacterial soap for cleaning the brushes and the sponges after use
Wash your hands before applying paint
Taking face paint off a child's face
Most paints used on skin are water soluble and you will just need to wash the children's faces with some soap and water to clean them. If glitter has been used or if you have a thick coat of paint, you may want to consider using simple olive oil to dissolve the paint before washing it off. Alternatively, you could also use a soft cloth soaked in luke warm water to gently wipe off the paint. Remember to never scrub a child's face as this may cause redness and rashes.
With these tips, face-painting can be an enjoyable addition to many different holiday events and carnivals. It's also a great fundraising activity for youth groups.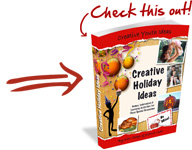 Holiday Collection


Games and Activities in Celebration of common Holidays.
Creative Holiday Ideas has over 300 pages of ideas to help you plan your next Halloween event or Fall Festival Celebration. If you've ever wondered what you're going to do for some of the common holidays and how you're going to do it, this resource is for you.
=> Tell me more about the Holiday Collection


| | |
| --- | --- |
| | Rate This Post by Clicking the Stars : |