With Halloween just around the corner, a lot of churches are looking for alternatives for their children and youth. Many churches have fall carnivals, or harvest festivals. One popular activities for church carnival events with children is face painting.
Here's a recipe for facepaint for those who might be interested.
1 teaspoon cornstarch
1/2 teaspoon water
1-1/2 teaspoon cold cream.
A few drops of food color
Mix all the ingredients together in a small paper cup, using a toothpick. If the mixture is too thick to paint with, thin with a few drops of water. The paint can be applied with a paint brush for small areas or you can spread it all over your face with your fingers.
Idea: While the paint is till wet, you can add some glitter to your design.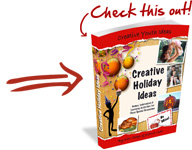 Holiday Collection


Games and Activities in Celebration of common Holidays.
Creative Holiday Ideas has over 300 pages of ideas to help you plan your next Halloween or Fall Festival event as well as a variety of other common holidays. If you've ever wondered what you're going to do for some of the familiar holidays and how you're going to do it, this resource is for you.
=> Tell me more about the Holiday Collection


| | |
| --- | --- |
| | Rate This Post by Clicking the Stars : |