If students are to develop to their fullest potential as leaders, we must be willing to take five basic steps to assist them in the process:
Hear them out. Surveys, forum discussions, and other feedback times will help us learn about students' needs and where they can be stretched and challenged.
Use them. We need to give them responsibilities that they can handle so that they come to their group, not our group.
Affirm them. Students are much more likely to keep on taking responsibility (and to rebound from failures) when they know our affirmation and encouragement. We must be careful not to take our student leaders for granted.
Let them testify. The best way to recruit more student leaders is to let those who have served as leaders tell others about how they have grown through the experience of leadership.
Be a facilitator. When students start to lead on their own, our jobs will change from omnipresent leader to facilitator. When students start their own small groups or host their own socials, we may no longer be needed at these meetings. Our students will need only our advice about how to lead. When we come to this point, we can rejoice, for we will know that they own the program.
Source: Organizing Your Youth Ministry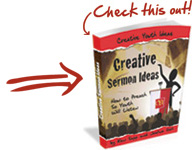 Get Help on Your Youth Sermons
Creative Sermon Ideas
This 100 Page e-Book Includes All The Help You Need To Prepare Powerful, Life-Changing Youth Sermons That Will Turn Your Preaching Around And Make Your Youth Sit Up And Listen! Includes 7 Complete Sermons.
–> I want More Youth Sermon Ideas…


| | |
| --- | --- |
| | Rate This Post by Clicking the Stars : |