When Jesus talked with the woman at the well He began with water, compared that water to eternal life, and finally explained about the Messiah (John 4:1-26). He began with people at the level they were at and then stretched them and gently guided them to deeper spiritual truths and action.
Rather than scolding Thomas for his religious questions, Jesus gave him the evidence he needed to believe (John 20:24-28). Jesus responded to His mother's worry by explaining why He stayed in the temple (Luke 2:49). Jesus comforted His disciples by assuring them He would prepare a place for them (John 14:1-3). At the Last Supper He tempered Peter's overconfidence by telling him what to do after failure (Luke 22:32). He helped His disciples see that children weren't a bother to "serious" religion, but a demonstration of it (Mt 19:13-15).
By beginning at the level of the student we can gently guide them into deeper spiritual truths. In the process we are a little closer to teaching as Jesus Taught.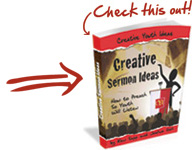 Get Help on Your Youth Sermons
Creative Sermon Ideas
This 100 Page e-Book Includes All The Help You Need To Prepare Powerful, Life-Changing Youth Sermons That Will Turn Your Preaching Around And Make Your Youth Sit Up And Listen! Includes 7 Complete Sermons.
–> I want More Youth Sermon Ideas…


| | |
| --- | --- |
| | Rate This Post by Clicking the Stars : |