You may be coping unsuccessfully with personal stress if you:
Don't take vacations or don't enjoy them when you do take them.
Don't have a sense of humor.
Don't recognize when you are getting fatigued.
Believe that being busy means being productive.
View change as a threat instead of a challenge.
Feel that you are not in control of events.
Do not engage in any regular exercise.
Excessively seek out diversions to take your mind off your work.
Worry excessively about problems.
Do not have interests outside your ministry.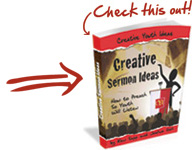 Get Help on Your Youth Sermons
Creative Sermon Ideas
This 100 Page e-Book Includes All The Help You Need To Prepare Powerful, Life-Changing Youth Sermons That Will Turn Your Preaching Around And Make Your Youth Sit Up And Listen! Includes 7 Complete Sermons.
–> I want More Youth Sermon Ideas…


| | |
| --- | --- |
| | Rate This Post by Clicking the Stars : |