As your volunteers learn and grow, they will begin to exhibit characteristics that will identify them as effective volunteers. While not an exhaustive list, the following characteristics are the kinds of traits you want to see in your volunteer team:
• Good listening skills
• Empathy for teen perspectives on life
• Enjoyment of working with other teenagers
• Solid spiritual, emotional, and relational foundations in their own lives
• Patient, flexible, and affirming
• Perseverent
• Principled, but not judgmental
• Good relational skills
• A sense of humor
• Dependable
Set specific standards for leaders in your youth ministry. While your staff can be made up of people with various gifts, abilities, and personality styles, it shouldn't be open to just anyone. The quality of your ministry will depend upon your ability to develop, articulate, and positively enforce your standards for what constitutes a qualified youth leader.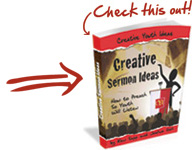 Get Help on Your Youth Sermons
Creative Sermon Ideas
This 100 Page e-Book Includes All The Help You Need To Prepare Powerful, Life-Changing Youth Sermons That Will Turn Your Preaching Around And Make Your Youth Sit Up And Listen! Includes 7 Complete Sermons.
–> I want More Youth Sermon Ideas…


| | |
| --- | --- |
| | Rate This Post by Clicking the Stars : |