Don't try to do it all yourself. Learn the fine art of delegation.
Remember that we were here before you and may be here after you.
Don't throw me or my opinions out just because I represent leadership from the former youth minister. Help me help you grow a successful youth ministry in our church.
We may need to change, but gently help us change instead of forcing change on us without understanding.
Don't wait for a crisis to occur before we meet. My family needs to know you care even when life is going smoothly.
Help me be a better worker by being organ­ized and prepared.
Don't be afraid of my experience as a youth worker. I may know as much or more than you do about working with teenagers, but I still want YOU to be their leader. Allow me to help you.
Just listen sometimes instead of always having the "right" answer to my problem. I may just need to know somebody cares enough to listen to me.
You teach me about the importance of prayer, so actually pray with me one-on-one.
Praise me for the good things I've done.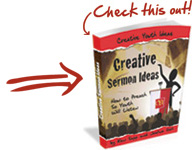 Get Help on Your Youth Sermons
Creative Sermon Ideas
This 100 Page e-Book Includes All The Help You Need To Prepare Powerful, Life-Changing Youth Sermons That Will Turn Your Preaching Around And Make Your Youth Sit Up And Listen! Includes 7 Complete Sermons.
–> I want More Youth Sermon Ideas…


| | |
| --- | --- |
| | Rate This Post by Clicking the Stars : |