Announcing…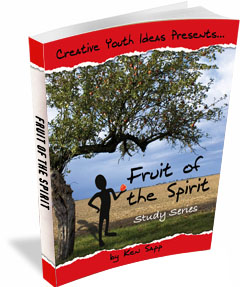 We hope you've had a great start to your summer vacation, I know we have! We've been working hard to see how we can support you during this season. We know you'll probably have your hands full with upcoming camps and planning how you can fill the hearts and minds of your youth with activities that will engage them physically and spiritually to truly enable them to worship God with all their heart, mind, soul and strength!
As you may know, we have a whole range of Bible study and Camp curricula that you may have already discovered while browsing our site – "The Great Adventure", "Jonah: A Whale of a Tale", and "Who Do You Say That I Am?".
Today, we'll be launching a brand new Bible Study series and Camp Curriculum that we're totally excited about. It features a brand new full color Teacher and Student Guides with a brand new format that we're sure you will have a blast using.
Introducing, "The Fruit of the Spirit"
Fruit of the Spirit Bible Study Series for Youth Camp or Youth Bible Study
This Bible Study and Camp Curriculum covers, in 7 1-hour sessions, what it takes to grow spiritually in Christ, the goal of which is to be fruitful in our Christian walk – to live a life worthy of God's calling.
Your youth will learn about:
Heart Preparation – "The Good Soil"
(Matthew 13: 3-9, 18-23; Luke 8:5-15; Mark 4:3-20)
Sin & Confession "Pulling Weeds"
(Matthew 13:22; James 1:13-18; I John 1:9-10)
The Seeds You Sow Determine the Harvest You Reap – "Planting Seeds"
(Galatians 6:6-9)
Abiding in Christ – "Drawing from the Source"
(John 15:1-17)
Cultivating Spiritual Fruit – "The Fruitful Life"
(II Peter 1:2-8)
Deciding Between Good and Best – "Pruning"
(Matthew 22:25-29; I Cor 13:4-7)
Your Spiritual His-tree and Destiny – "Tree-mendous Fruit"
(Matthew 22:25-29; I Cor 13:4-7)
If you've already worked out what your summer youth camp theme and topics will be, don't worry! This curriculum is designed to be used not only for camps but for your Bible Studies, Sunday School or Small Groups.
However you choose to use it, our hope is that through this series, your youth will gain a fresh understanding of walking along this spiritual journey and grow into believers who will impact their families, schools, communities, country, and world for God's glory!
To find out more about how can nurture the Fruit of the Spirit in the life of your students, click on the link below:
Fruit of the Spirit Bible Study Series for Youth Camp or Youth Bible Study
This will be the first of our Bible Study Curricula that will feature this new format, and so, we warmly welcome any feedback you can give us on how you liked using it or how it can be further improved. Our wish is to better serve you in your work with the next generation of committed believers in the spirit of excellence.
with YOUth on my Heart
Ken

| | |
| --- | --- |
| | Rate This Post by Clicking the Stars : |