Five Principles of Bible study
Ask the right questions.
Write down what you observe and discover.
Apply your discovery to your life and thoughts.
Study the Bible systematically.
Strive to exhaust the passage you are studying.
Bible Study Tools in Order of Importance
Translation of the Bible
Concordance
Dictionary
Bible Dictionary
Commentary
Methodical Bible study
Pray for the Holy Spirit's guidance and insight.
Make observations by asking questions.
Seek answers from the scripture and then tools in order of importance.
Apply the scripture to your life.
Questions to Ask When Studying the Bible
What is the historical setting?
What is the literary form?
What are the key words?
What important grammatical structure do I observe?
What is the tense of the verbs?
Is there something contrasted?
Is there a paradox?
Is the passage dependant on a preceding passage?
Ask six questions: What? Who? Where? When? Why? and How?
Application of a Bible Passage
Is there a promise to claim?
Is there a command to obey?
Is there a sin to confess?
Is there a teaching to absorb?
Common Pitfalls of Youth Studying the Bible
Looking past the obvious for the hidden.
Failure to consider the historical in rushing to application.
Narrow vision. (All scripture is true all the time.)
Lack of discernment as to what is cultural and what is eternal.
Lack of respect for God's Word. (God's Word means what it means, regardless of our beliefs or opinions.)
Superstitious approach to God's Word.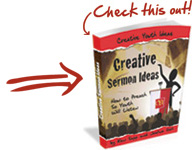 Get Help on Your Youth Sermons
Creative Sermon Ideas
This 100 Page e-Book Includes All The Help You Need To Prepare Powerful, Life-Changing Youth Sermons That Will Turn Your Preaching Around And Make Your Youth Sit Up And Listen! Includes 7 Complete Sermons.
–> I want More Youth Sermon Ideas…


| | |
| --- | --- |
| | Rate This Post by Clicking the Stars : |