Description
Faith and trust are much the same thing in the Christian Experience. We trust in God and have faith that he will guide us and protect us in our walk with Him.
Materials
a blindfold
Preparation
Scatter chairs and obstacles around the room.
What to Do
Ask for a volunteer.
Explain that the volunteer will be blind-folded and then receive directions from you to walk from predetermined points A to B in the room.
The goal is to get the volunteer to the predetermined destination without bumping into things.
Before blindfolding the volunteer ask, "Do you trust me to guide you? "Do you have faith in yourself and in me to get from here to there without being able to see where you're going? I will be with you for the journey and guide you along the way. Are you ready?"
Take It to the Next Level
You can use this to illustrate faith, trust, and also raise awareness of visual impairment and other physical challenges.
How is this similar to following God?
How is this like our spiritual walk in faith?
Why do you think the Bible calls our spiritual life a "walk"?
In what ways does God guide us?
What is the destination that God has planned in advance for us?
Is everyone's journey the same?
What lessons can you learn from this to help you in your own spiritual walk?
What is ONE step you will take this week in your spiritual walk?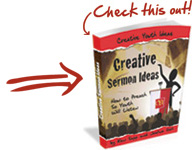 Get Help on Your Youth Sermons
Creative Sermon Ideas
This 100 Page e-Book Includes All The Help You Need To Prepare Powerful, Life-Changing Youth Sermons That Will Turn Your Preaching Around And Make Your Youth Sit Up And Listen! Includes 7 Complete Sermons.
–> I want More Youth Sermon Ideas…


| | |
| --- | --- |
| | Rate This Post by Clicking the Stars : |