Reporters often get to meet the most amazing people in their line of work, interacting with celebrities, political leaders, inspirational figures, people facing tragic circumstances, heroes, athletes, the wealthy and the poorest of the poor. We get to read about their experiences and hopefully, learn something and grow. Our Bibles are full of newsworthy stories and this activity will help your youth appreciate its depth by looking at it from a different point of view.
Icebreaker to this idea
Out of all the people in the Bible, who would you visit, and why? And if you had the opportunity to ask them any question, what would you ask?
What to Do
Imagine that you are a newspaper reporter sent back in time to interview one of the people mentioned in the Bible. You want to ask about all aspects and events in that person's life. The characters in the Bible were much like you an me, not perfect, but still used by God. Here's a list of interview questions you might ask.  Find the answers in the Bible when possible, and when not available, based upon what you do know about the person, how might they answer?
Name
What is the meaning of your name?
Birth
When were you born, and where?
Was there anything special about your birth?
Parents / relatives
Tell me about your family.
What is the your family background?
Tell me about your parents and relatives.
What were your parents views on spiritual things?
Society
Tell me about where you lived? Your nation? Your city? Your culture?
What was daily life like?
To what places did you travel? Why? What did you do there?
Your Status
Tell me about your job history?
How did your job history prepare you for your role in the scriptures?
Did you change roles or start doing something different? Why?
Did you have any special titles or honors?
If you were alive today, what role do you think you would take in today's world?
Who would you be most like in the world today?
Relationships
Who were your friends? Your enemies? Other people you met?
Tell me a bit about your relationships and how they influenced you?
Tell me about your spouse, your children? Describe your relationship to them. What influence did you have on each other?
What influence did you have on the people you encountered in your life?
Character
How would your friends describe your character? Your enemies?
What do you see as your greatest strengths? Weaknesses?
What kind of person were you?
What were your flaws? Failures? Faults? What was the source, the cause, and the cure?
What were your greatest virtues? Why?
Key Events
What key things happened in your life to make you the person I have read about in the Bible?
What things influenced your thinking and beliefs?
What were the biggest challenges you faced? What were some of the most difficult circumstances you faced and how did they affect you?
Legacy
What were some of your successes and your failures? What lessons did you learn from them? What happened to you?
What important contributions did you make? What opportunities did you miss?
What was your greatest acheivement in life? How did this achievement help or hurt others?
What was the end of the story for you? What were some of your victories? Your defeats?
What were some of the greatest lessons others could learn from your life? Examples to follow? Things to avoid?
Ommissions
What were some of the details of your life that were left our of scripture? Why?
Spiritual
Describe yourself Spiritually.
When did you encounter God? How?
How did your encounter with God change you?
Describe your relationship with Him.
What might God say about you?
Describe some key events related to your spiritual growth?
What was your basic response to spiritual things and to God?
Lessons
What is one lesson I should learn from your life?
How can the power, the love, the knowledge of God shine through the story of your life? What does your life reveal to us about God?
Going Deeper
You may wish to zero in on an event and ask the person about how they felt and what they learned from a specific incident.
Tell me what happened?
How did you feel about what happened?
What did you learn from the event?
How affect did the event have on you? others?
Why was this event important?
What should others learn from this event?
What are some events and issues in the world today, they might have an opinion on? What wisdom do you think they would share?
Take it to the Next Level
Making it Personal
The characters in the Bible were much like you an me, not perfect, but still used by God. Thinking about, understanding, and relating to what they went through very often gives us insight into our own situations and how to learn and grow through them.
What is the most memorable part of their story?
What is God telling me from this person's life story?
How am I encouraged and strengthened?
What has it taught me about myself and how I need to change and grow?
What has it taught me about God and how I need to respond to Him?
Think about a situation in your life story you're still dealing with. Surrender it to God and allow him to work in and through you just as He did in the lives of countless others so many years ago.
Not sure where to find that famous Bible personality?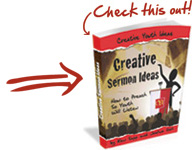 Get Help on Your Youth Sermons
Creative Sermon Ideas
This 100 Page e-Book Includes All The Help You Need To Prepare Powerful, Life-Changing Youth Sermons That Will Turn Your Preaching Around And Make Your Youth Sit Up And Listen! Includes 7 Complete Sermons.
–> I want More Youth Sermon Ideas…


| | |
| --- | --- |
| | Rate This Post by Clicking the Stars : |