Description
Do something special with your family or with your youth group this year by having an Easter Communion with them.
Resources
An easy to understand Bible
One loaf of unleavened Bread
One cup filled with Grape Juice
What to do 
Read through the Biblical account of the Jewish Passover and discuss what it meant to the Jews in the Bible. (see Exodus 12).
Explain the significance of the use of unleavened bread when Jewish families remembered the Passover.
Read the Bible passages leading up to the account of Jesus sharing the passover with His disciples (John 13). You might also want to include Jesus' last words to His disciples (John 14-16) and Jesus' prayer for us (John 17).
Explain the significance of Jesus as the Passover Lamb as a sacrifice for each of our sins.
Discuss the significance of sharing His cup and what it means to us today (John 18:11).
Discuss what it means to be part of the Body of Christ. (I Corinthians 12)
Forewarn the youth that communion is to be a time of reflection and reverence before God in remembrance of what he has done for us.
SHARING THE ELEMENTS OF THE FAMILY COMMUNION
(If it is your conviction that only a clergyman / pastor / minister must administer communion, invite one to do so in the circIe of your family or youth group.)
Use one loaf of unleavened bread and one cup so that the family may share "One Body"
and "One Cup." You can make this time more meaningful by sharing with each person with whom you break bread why you feel that person has been a gift from God to you. Jesus said "I love you" with a cross. We need to practice freely saying "I love you" to each other as well.
Thank God together for the gift of His Son, for God's forgiveness through His Son, and for adopting each of us into His own family, making us sons and daughters of God and brothers and sisters with the Lord Jesus, who brought us to the Father with His own Life.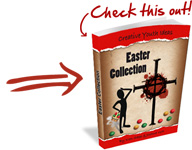 Easter Collection


Games and Activities in celebration of Easter.
Get more than 80 creative ideas for planning a Youth Easter celebration or Easter Party. You can immediately download my best Easter Icebreakers, games, illustrations, Easter activity ideas AND MUCH MORE in a useful ebook!
=> Tell me more about the Easter Collection


| | |
| --- | --- |
| | Rate This Post by Clicking the Stars : |