Description
An Easter sunrise service for a family or youth group is a great way to do something a little different this Easter.
Resources
Bible
Blanket to sit on
Breakfast – Prepare a simple breakfast of boiled eggs, Hot cross Buns, rolls, juice, etc. Add a little fun to breakfast by packing a breakfast for each person in an individual Easter Basket with each person's name on it. You can even hide a prize in the bottom of each basket.)
Preparation
Scout around your general location for a special, quiet place from which the sunrise can be seen. Arrange transportation as necessary to the location.
Find and mark the Easter story in the Bible. (John 20: 14-18, Luke 24:1-12)
Choose one or two songs the whole family can sing about the risen Lord. You can bring along a portable music player with speakers, a guitar or sing without music. You might also want to create handouts with the words for each participant.
Find out the approximate time of sunrise for Easter Sunday from the newspaper. [You can use this online link or earthtools to find out according to your longitude and latitude]
What to Do – Easter Morning
Set your alarms so that you have enough time to get up and get ready. You might want to set clothes and other things aside the night before so you can just grab them and run in the morning.
Get up early enough in the morning to get everyone to your chosen location before the sun comes up.
Encourage youth to dress appropriately for the weather and comfort.
Spread out the blanket(s) and encourage everyone to take a seat on the blankets
Before the sun comes up, read the account of Mary Magdalene, Joanna, Mary the mother of James, and possibly other women going to Jesus' tomb and what they experienced.
As the sun starts to peek over the horizon, sing or play a victorious song.
Then thank God with your eyes wide open for the Resurrection and share what the resurrection means to you. A good outline for your short testimony is: 1) This is what I was, 2) this is what happened, 3) I cried out, and 4) this is what He's done…You might also invite some of the other youth to share.
Share a simple breakfast together with the food you have brought. [One of the defining acts of Jesus' ministry was table fellowship.]
Head back to your homes with enough time for everyone to get dressed in their new Easter clothes and go to church.
Added Meaning
Study the Biblical events leading up to Easter (Matthew 26 and 27) the week before you have the Easter Sunrise Service.
If you are doing this with your family, or in a church locking, the night before Easter, talk about how the disciples must have felt on the Saturday night before the Resurrection; how Jesus' mother must have felt; what Mary Magdalene and those who had known Jesus were feeling.
Adapted from "Let's Make a Memory" by G. Gaither & S. Dobson"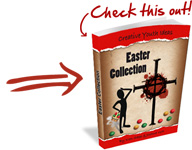 Easter Collection


Games and Activities in celebration of Easter.
Get more than 80 creative ideas for planning a Youth Easter celebration or Easter Party. You can immediately download my best Easter Icebreakers, games, illustrations, Easter activity ideas AND MUCH MORE in a useful ebook!
=> Tell me more about the Easter Collection


| | |
| --- | --- |
| | Rate This Post by Clicking the Stars : |