Materials
Gather as many first-, second-, and third-place ribbons as you can. You'll need a Bible, too. Draw some ribbons if you don't have manufactored ones. You can also buy blue, red, and white ribbon to make your own prize ribbons.
Activity
Your plan will be to give away as many prizes and awards as possible during the class period. This is not a contest because everyone will win a prize by the end of the class. Tell your kids that the class time will center around winning and that everyone is a winner in God's eyes.
1. Start as soon as the first person arrives, give that person a blue ribbon for being first. Give the next person a red ribbon for being second and the third person a white ribbon for being third.
2. Next, hand out ribbons:
* to the first three to be seated
* those who help with various activities
* those who sing songs nicely
* those who are willing to pray
* someone who does a kind action for someone else,
* those who answer questions
* those who do well in your activities
* those who bring their Bibles
* those who take notes
* those who ask questions during the study.
* Any any other excuse you can find to give youth awards.
Application
Close the time with worship in which young people lay down their ribbons or prizes before Christ, placing them at the foot of a cross silent celebration. Paul was willing to lay everything down for Christ. For him the greatest prize was serving Christ. Everything he did in life was for the sake of Christ. (Phil 3:12 – 16)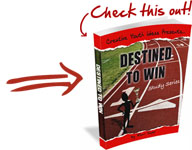 Destined to Win
Need a Youth Camp/ Bible Study Series on "Running the Christian Race"?
Our "Destined to Win" series is a great follow up for youth who are new Christians or to emphasize the basics of our spiritual Journey in the Faith. This Bible Study / Camp Curriculum / Small Group Study has a sports theme and is great for athletes and works well as a tie in to the Olympics.
->Tell me about "Destined to Win"

This 170 page resource not only provides 52 of the world's most popular group icebreaker activities and games, but also includes lesson ideas and discussion questions to smoothly transition into conversations about the issues common to most groups.
Click here to find out how to get your hands on this incredible resource!


| | |
| --- | --- |
| | Rate This Post by Clicking the Stars : |