Her goal was the California coastline –a 34 km swim from Catalina Island. It was no more distant than the width of the English Channel, a goal she had already conquered as the first woman to swim it from both directions. Although she was a seasoned long-distance swimmer with incredible stamina, she trained arduously to prepare herself to achieve her goal.
July 4th, 1952
Millions watched on national television, as 34 year old Florence Chadwick began her swim. The water was icy cold; the fog — so thick she could hardly see the support boats alongside her. As the hours passed, she was repeatedly stung by jellyfish. Sharks had to be driven away with rifles. Yet she pressed on, determined to achieve her goal.
15 hours later
Numbed with the cold, she was ready to give up. Her mother and her trainer were in a boat at her side. "Florence. You are almost there. Don't give up now." Encouraged by her mother's admonition, she continued to swim.
Failure
Fifteen hours and fifty minutes after she began her swim, the support team reluctantly agreed to pull Florence from the water. Several hours later, after she warmed up, she realized she had given up only a few hundred meters from her goal! If she had continued just a little while longer, the waves would have carried her to the beach. "If I could have just seen the land for myself, I would have made it!". She told reporters it was not the sharks, the fatigue, or even the cold water that defeated her. She had been defeated by the fog alone. It had obscured her goal and blinded her reason, her eyes and her heart.
Never give in to defeat.
1952 was the only time Florence Chadwick ever quit. Two months later she swam that same channel. The water was still ice cold and still inhabited with sharks. Once again fog obscured her view. But this time she pressed on, BELIEVING that somewhere beyond that fog, her goal would be reached. Not only was she the first woman to swim the Catalina Channel, but she beat the men's record by two hours!
What are YOUR goals?
Have you lost sight of your goal?
Don't quit just before your goal is achieved!
Stay Focused!
"Let us fix our eyes on Jesus, the author and perfecter of our faith"
– Hebrews 12:2
Copyright 2005 by Ken Sapp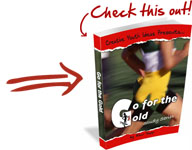 Go for the Gold
Need an evangelistic Youth Camp/ Bible Study Series with an Olympic Theme?
What is salvation all about? What does it mean to be saved? This sports themed Bible Study / Camp Curriculum uses the Olympic Flag to introduce the concepts of sin (black circle), forgiveness (red circle), purity (white background), spiritual growth (green circle), heaven (Yellow Circle) and (Baptism) blue circle.
-> Tell me about "Go for the Gold"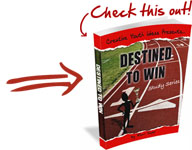 Destined to Win
Need a Youth Camp/ Bible Study Series on "Running the Christian Race"?
The race as a metaphor for the Christian life is used in several places in the Bible. This series is a great follow up for new Christians or to re-emphasize the basics of our spiritual Journey in the Faith. This Bible Study / Camp Curriculum has a sports theme and is great for athletes as well as a tie in to the youth Olympic Games.
->Tell me about "Destined to Win"


| | |
| --- | --- |
| | Rate This Post by Clicking the Stars : |