When your youth comes home from school today, smile when he or she walks through the door. Do that several days in a row and your youth will actually look forward to coming home!
Next time your youth tries to be funny…laugh.
Make a list of all the things your youth does that makes you mad. Now, go through the list and cross off all the stuff that doesn't really matter. Save your anger only for those things which have lasting moral consequences.
Take your youth out for breakfast or lunch once a week. Promise yourself that you won't use that time to lecture or nag. Just listen and talk about good stuff.
Invite your youth's friends to your house for pizza, soft drinks and a movie rental. Extra points if you can secure a big screen TV or video projector.
Ask your youth to play his/her favorite music on your stereo. Listen and discuss the music with him or her. Find out why he/she likes it so much. Try to avoid criticism.
Think of something positive you can say to your youth today…and say it.
Put a love note (from you) in your youth's backpack or lunch sack where it will be found privately.
Before you criticize your youth's behavior, try remembering your own teenage years. Chances are it will help you communicate better.
Respect your youth's privacy. Snooping without a legitimate reason is a no-no.
Communicate your plans to your youth frequently. Let him/her know where you are, when you'll be home, what you're doing. This sets a good example that will encourage them to do the same thing for you.
Pray daily for your youth. Remember, God loves them even more than you do!
Adapted from "Understanding Your Teenager" at Gospel.com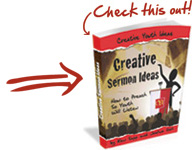 Get Help on Your Youth Sermons
Creative Sermon Ideas
This 100 Page e-Book Includes All The Help You Need To Prepare Powerful, Life-Changing Youth Sermons That Will Turn Your Preaching Around And Make Your Youth Sit Up And Listen! Includes 7 Complete Sermons.
–> I want More Youth Sermon Ideas…


| | |
| --- | --- |
| | Rate This Post by Clicking the Stars : |