Shepherds
(Luke 2:8-10)
Use these discussion questions for the various events in the Christmas Story related to the Shepherds.
What did it feel like to be a shepherd? Angel? A character in the manger scene?
Why did the angels appear to the shepherds and not someone else? How does this relate to Mary's song?
Could the shepherds have chosen to accept or decline the angel's invitation? What did they choose to do?
How long do you think it took them to decide?
Why do you think it was important to them to see the Baby Jesus first hand?
Why did the shepherds drop everything to go find out about some baby? Why were they so excited?
What does this "baby" mean to them?
What does this "baby" mean to us?
Why was the birth of Christ Good News?
What are some lessons, truths, attitudes, and responses can we learn from the shepherds?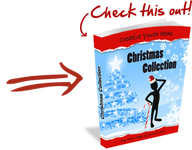 Christmas Collection


Games and Activities helping youth discover the Reason for the Season.
Get more than 200 creative ideas for planning a Youth Christmas celebration or Christmas Party party. You can immediately download my best Christmas Icebreakers, games, illustrations, Christmas activity ideas AND MUCH MORE in a useful ebook!
=> Tell me more about the Christmas Collection


| | |
| --- | --- |
| | Rate This Post by Clicking the Stars : |