Why is Father's Day celebrated? Why is such a day good/beneficial?
How old was your father when he got married? At what age do most men in our country get married?
In our culture, what are a father's duties to his children? to his wife? to his parents? to his community?
What does your father do?
What are your father's hobbies?
What makes a good father?
What makes a bad father?
What is your favorite memory of your father?
What do you like best about your father?
How can you show your love for your father?
How can you show your father you appreciate him?
Variation
"My Father is the best Because… "
Each student is given one minute to give as many reasons as possible why his or her father is the best father in the world.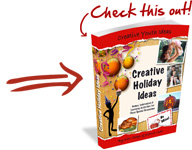 Holiday Collection


Games and Activities in Celebration of common Holidays.
Creative Holiday Ideas has over 300 pages of ideas to help you plan your next New Year's Day, Valentine's Day, Mother's Day, Father's Day, Halloween or Fall Festival, and Thanksgiving event. If you've ever wondered what you're going to do for all these holidays and how you're going to do it, this resource is for you.
=> Tell me more about the Holiday Collection


| | |
| --- | --- |
| | Rate This Post by Clicking the Stars : |