Scripture has many passages on the family relationship, and of fathers and children.  Here are a few of the responsibilities of fathers mentioned in the Bible:
Provide for his family (Matthew 7:9-1; 1 Timothy 5:8)
Instruct his children (Proverbs 1:8)
Exhort, encourage and implore children (1 Thessalonians 2:11)
Punish unruly children (Deuteronomy 21:18-21)
Raise the children in the discipline and nurture of the Lord without provoking them or exasperating them causing them to lose heart (Ephesians 6:4; Colossians 3:21)
Discipline his children (Hebrews 12:7)
Love his wife (Ephesians 5:25,28,33)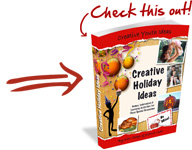 Holiday Collection


Games and Activities in Celebration of common Holidays.
Creative Holiday Ideas has over 300 pages of ideas to help you plan your next Father's Day as well as other familiar holidays. If you've ever wondered what you're going to do in celebration of the holidays and how you're going to do it, this resource is for you.
=> Tell me more about the Holiday Collection


| | |
| --- | --- |
| | Rate This Post by Clicking the Stars : |