Introduction to this Easter Game
Can you follow all the actions of the leader without dropping your Easter Egg?
Description of this Easter Game
Youth must follow a leader while keeping an Easter egg balanced on a spoon the entire time.
Materials
One boiled and dyed Easter egg for each youth. (Prepare a few Easter eggs as spares in case some are dropped and mutilated beyond use.)
One tablespoon for each youth.
Preparation
Boil and dye Easter eggs the night before the Easter event.
Easter Egg Game / Activity Instructions
Form all the youth into a single line.
Each youth holds his or her spoon from the handle and carefully balances an Easter egg in the spoon.
Youth may not use another hand or body part to balance the Easter egg.
The youth at the front of the line is the leader.
The leader moves into a location where everyone can see and then can move around, hop, or do any other crazy movements as long as he or she doesn't drop the Easter egg.
The rest of the youth must follow the leader's actions while continuing to balance the Easter egg on the spoon.
If one of the youth in line drops the Easter egg or is unable to perform the action she or she must go to the end of the line.
If the Leader drops the Easter egg they also move to the end of the line and the next youth in line becomes the leader.
Whichever youth is the leader at the end of a designated time, wins the game.
Discussion and Applications
Use this game along with these other Easter Egg activities for a meaningful Bible Lesson: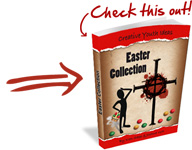 Easter Collection
Games and Activities in celebration of Easter.
Get more than 80 creative ideas for planning a Youth Easter celebration or Easter Party. You can immediately download my best Easter Icebreakers, games, illustrations, Easter activity ideas AND MUCH MORE in a useful ebook!
=> Tell me more about the Easter Collection


| | |
| --- | --- |
| | Rate This Post by Clicking the Stars : |