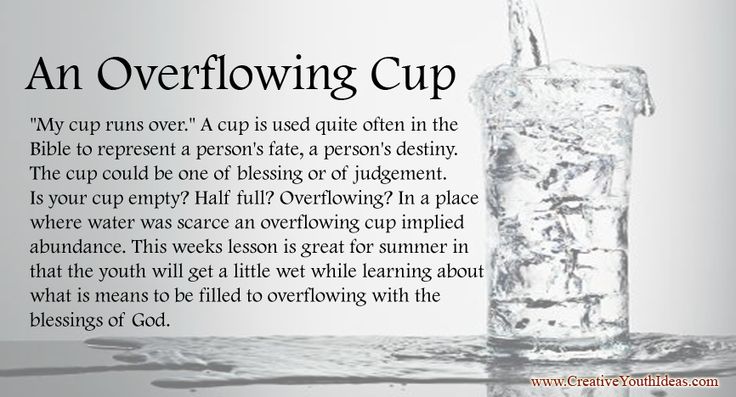 "My cup runs over." A cup is used quite often in the Bible to represent a person's fate, a person's destiny. The cup could be one of blessing or of judgement. Is your cup empty? Half full? Overflowing? In a place where water was scarce an overflowing cup implied abundance. This weeks lesson is great for summer in that the youth will get a little wet while learning about what is means to be filled to overflowing with the blessings of God.
PLEASE SHARE THIS IDEA ON FACEBOOK – CLICK HERE
Games Using Water and Cups
Filler Up – Divide the youth into pairs. Partners stand six feet apart. One person gets a cup with a ping-pong ball in it and the other a water gun. At you signal, those with the water pistol must race to squirt enough water into the cup to make the pin-pong ball float. Keep a bucket of water nearby for easy refills.
Bottle Fill Relay – Each team appoints one member to lie face up with head toward the starting line, holding an empty pop bottle on his or her head. One member from each team fills a cup (made of nonbendable material) with water, runs to the bottle, and pours in water until it is gone. He or she then runs back, and the next contestant runs out with a cup of water as soon as the first player crosses the starting line.
Water Cup Derby – Divide into teams. Each team member will fill a cup with water from a shared water bucket, put it over their head and run to a team soda bottle (or bucket) and poor it in. The team that finishes first gets 5 points, but the team that has the most water in the bucket gets 10.
Leaky Cup Relay – Give each team a plastic cup or sturdy paper cup with holes punched in it. The first person on a team fills it up and passes the leaking cup over his or her head. The person who receives it must pass it under his or her legs to the next person – Over, under, over, under and it reaches the end of the line. At the end of the line, the last youth must run and dump any water that is left in the cup into a 5 gallon bucket and then run to the front of the line. After a given time, whomever has the most water in their 5 gallon bucket wins.
Jumping Water Splash – Give each youth a plastic or paper cup full of water. While two players twirl a large jump rope, jumpers one by one are to attempt three consecutive jumps. They are to do this while holding onto their cup of water and trying to do let any water spill. The youth that has the most water left is the winner. You can keep playing until only one person has water left in their cup.
Gargling Charades – This is kind of like charades, but each youth is given a cup of water and must use the water to gargle a given Christian Song while their teammates try to guess the title of the song.
TAKE IT TO THE NEXT LEVEL
MAKE IT SPIRITUAL
What is the purpose of a cup?
When the Bible talks bout filling our Cup, what does the cup represent?
With what does God fill our cup?
Did you trust your team mates to try to aim only for the cup, or were you worried they'd "accidentally" miss? What role does trust play when we come to God asking our cup to be filled?
Was there a trade-off between trying to be quick vs trying to be accurate? How might this apply spiritually?
What happened when your cup was emptied?
What is the meaning of the phrase "My cup runs over"?
Why is a clean cup important?
MAKE IT PRACTICAL
What are some things youth try to fill the emptiness in their lives with?
What are some things that youth try to quench their thirsts with in life?
Are there some things dirty a person's cup?
What is the solution for a leaky cup?
Why does God fill our cup to overflowing?
MAKE IT PERSONAL
What is it that fills your cup?
What things are most important to you?
How do you spend all your time?
What activities fill your day?
Are you a clean vessel waiting to be filled?
What changes do you need to make so that your life overflows with the blessings of God?
SCRIPTURE
Romans 15:13 – "May the God of hope fill you with all joy and peace as you trust in Him, so that you may overflow with hope by the power of the Holy Spirit."
Acts 14:17 – "Yet he has not left himself without testimony: He has shown kindness by giving you rain from heaven and crops in their seasons; he provides you with plenty of food and fills your hearts with joy."
Ephesians 5:18 – "Do not get drunk on wine, which leads to debauchery. Instead, be filled with the Spirit"
Psalm 42:1-2 – "As the deer pants for the water brooks, So my soul pants for Thee, O God. 2 My soul thirsts for God, for the living God; When shall I come and appear before God?"
Matthew 5:6 – "Blessed are those who hunger and thirst for righteousness, for they shall be satisfied."
John 4:13-14 – "Jesus answered and said to her, 'Everyone who drinks of this water shall thirst again; 14 but whoever drinks of the water that I shall give him shall never thirst; but the water that I shall give him shall become in him a well of water springing up to eternal life.'"
Revelation 7:16-17 – "They shall hunger no more, neither thirst anymore; neither shall the sun beat down on them, nor any heat; 17 for the Lamb in the center of the throne shall be their shepherd, and shall guide them to springs of the water of life; and God shall wipe every tear from their eyes."
Psalm 63:1 – "O God, you are my God, earnestly I seek you; my soul thirsts for you, my body longs for you, in a dry and weary land where there is no water.
Psalm 116:13 – "I will lift up the cup of salvation and call on the name of the Lord."
Luke 1:53 – "He has filled the hungry with good things but has sent the rich away empty."
Psalm 23 – "The Lord is my shepherd, I lack nothing. He makes me lie down in green pastures, he leads me beside quiet waters, he refreshes my soul. He guides me along the right paths for his name's sake. Even though I walk through the darkest valley, I will fear no evil, for you are with me; your rod and your staff, they comfort me. You prepare a table before me in the presence of my enemies. You anoint my head with oil; my cup overflows. Surely your goodness and love will follow me all the days of my life, and I will dwell in the house of the Lord forever."
———————————————
PLEASE SHARE THIS IDEA ON FACEBOOK – CLICK HERE
———————————————


MORE IDEAS? See "Creative Object Lessons"
200 page e-book that explains everything you need to know when planning your very own object lessons. It contains 90 fully developed object lesson ideas and another 200 object lesson starter ideas based on Biblical idioms and Names / Descriptions of God.


| | |
| --- | --- |
| | Rate This Post by Clicking the Stars : |