Description
The youth will find Easter eggs with numbers written on them. After a designated period of time, the youth will add the numbers written on the Easter eggs they have found and the youth or team with the highest score wins.
Resources
Easter eggs with numbers written on them and a special prize for the winner.
Preparation
Boil and dye Easter eggs and put a number on each one and hide them. You might choose to hide the higher numbered Easter eggs in the more difficult locations to find.
What to do
Group the youth into 2 or more groups or let them play as individuals
Instruct the youth to search for the eggs with numbers on them.
Remind the youth to limit the searching of eggs. (Like 10 eggs per group or only during a specified length of time)
Youth then search for the Easter eggs
Add all the numbers on the Easter Eggs to get a score.
The group or individual youth with the highest score wins a special prize.
Variation
None
Take it to the Next Level
Place numbers on the eggs that have significance to the Easter Story in the Bible and after the hunt ask youth to explain the significance of the numbers:
12 Disciples
3 days in the tomb
30 pieces of silver
2 women
Chapter where the Easter Story is found
1 God
ETC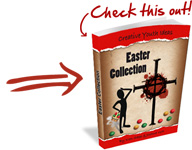 Easter Collection


Games and Activities in celebration of Easter.
Get more than 80 creative ideas for planning a Youth Easter celebration or Easter Party. You can immediately download my best Easter Icebreakers, games, illustrations, Easter activity ideas AND MUCH MORE in a useful ebook!
=> Tell me more about the Easter Collection


| | |
| --- | --- |
| | Rate This Post by Clicking the Stars : |