Description
In this variation of the common Easter Egg hunt, each youth will find an Easter egg with his or own name on it.
Resources
Easter eggs with each person's name on one. You'll want to have one egg for each person and maybe a couple extra prize eggs.
Preparation
This works best when you know who will be attending or when combined with other activities so that once everyone arrives you can label and hide the eggs.
One way to handle a party where you don't know who will attend is to to have an Easter Basket at the door when people arrive filled with eggs. As the youth arrive they put their names on one of the colored eggs with a permanent marker. Have someone hide the eggs while the youth are involved in other activities.
Another alternative would be to number the eggs and give each youth a number. Youth must only find their OWN egg and any of the specially marked prize eggs. They should leave any eggs they find in place if it is not theirs.
What to do
Gather all the youth.
Tell the youth to search for their eggs with their names on it. Also they can search for specially marked prize eggs.
Youth are not allowed to take or move any eggs except their own or the special prize eggs.
The first youth to find his/her Easter egg will have a bonus prize
Take it to the Next Level
Add some spiritual significance to the traditional Easter Egg hunt using Traditional Easter Symbols or Easter verses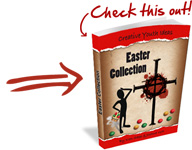 Easter Collection


Games and Activities in celebration of Easter.
Get more than 80 creative ideas for planning a Youth Easter celebration or Easter Party. You can immediately download my best Easter Icebreakers, games, illustrations, Easter activity ideas AND MUCH MORE in a useful ebook!
=> Tell me more about the Easter Collection


| | |
| --- | --- |
| | Rate This Post by Clicking the Stars : |