Description
In this crowdbreaker game, youth are given a list of statements and must find another youth whose dad fits each statement.
Materials
You can print this as a simple list or make a grid of squares and include one statement in each square. If possible think about the father's of youth in your group and use that as a guideline for characteristics.
Preparation
Be sure to prepare the list in advance.
What to do
Youth mingle about the room trying to must find someone whose dad fulfills each characteristic and have them sign next to the characteristic. Each person can only sign your list once.
First person to get all their squares signed wins.
Some possibilities for characteristics are:
Hair color isn't black
Wears specs
Travels on business
Works as (name a job)
Drives a car
Wears tennis shoes
Favorite hobby is (Name of a hobby)
Likes (a specific food)
Is tall/short
Is on the church council
Wears a ring
Is between 30-40 yrs old
Wears (name an item)
Has a brother
Has a sister
Lives (location)
Has been to (place)
Wears a gold colored watch
Watches soccer on TV
Exercizes
Drinks Coffee
Plays an instrument
Plays a sport
Likes to fish
Has a pet
Has a mustache or beard
Is bald
Take it to the Next Level
Make it Spiritual
We each know our Father best. We know what he likes, what he does, and common characteristics about him. But we should also know our heavenly Father.
What are the things God likes?
What are the things that God does?
What are some characteristics of God?
Here are some Scriptures that Describe God as a Father. What can you learn about God as Father from each verse?
God as Father
"But when the set time had fully come, God sent his Son, born of a woman, born under the law, to redeem those under the law, that we might receive adoption to sonship. Because you are his sons, God sent the Spirit of his Son into our hearts, the Spirit who calls out, "Abba, Father." So you are no longer a slave, but God's child; and since you are his child, God has made you also an heir. – Galatians 4:4-7
"Yet to all who did receive him, to those who believed in his name, he gave the right to become children of God" – John 1:12
Protector
"Father of the fatherless and protector of widows is God in his holy habitation." – Psalm 10:14
"When my father and my mother forsake me, then the LORD will take me up." – Psalm 27:10
Loving
"How great is the love the Father has lavished on us, that we should be called children of God! And that is what we are!" – 1 John 3:1
Compassionate
"As a father has compassion on his children, so the LORD has compassion on those who fear him." – Psalm 103:13
"The Father of compassion and the God of all comfort" – 2 Corinthians 1:3
Cares for us
"The LORD your God carried you, as a father carries his son, all the way you went until you reached this place." – Deuteronomy 1:31
Gives us gifts
"Every good and perfect gift is from above, coming down from the Father, who does not change like shifting shadows." – James 1:17
"If you, then, though you are evil, know how to give good gifts to your children, how much more will your Father in heaven give good gifts to those who ask him!" – Matthew 7:11
Disciplines us
"Endure hardship as discipline; God is treating you as sons. For what son is not disciplined by his father? Our fathers disciplined us for a little while as they thought best; but God disciplines us for our good." Hebrews 12:7,10
Make it Personal
What characteristics of God is most meaningful to you? Why?
What is the first step in becoming a child of the Father?
If you become a child of the Father, then how should you live your life?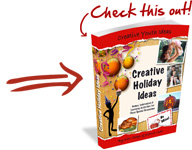 Holiday Collection


Games and Activities in Celebration of common Holidays.
Creative Holiday Ideas has over 300 pages of ideas to help you plan not only your next Father's Day event, but also other common holidays. If you've ever wondered what you're going to do for the holidays and how you're going to do it, this resource is for you.
=> Tell me more about the Holiday Collection


| | |
| --- | --- |
| | Rate This Post by Clicking the Stars : |