Father May I?
This is a paternal variation of the classic children's game: Mother, May I?  Use it for Father's Day or simply to talk about our relationship with the Heavenly Father.
What to do
If you have played the classic game you know that everyone starts out across the room, at an equal distance from mother.  Whoever is mother calls out a person's name and asks them to take X number of steps forward. If the person steps forward without saying "Mother May I?" he or she is penalised or sent back to the start. However if he or she remembers to say the magic words, mother will reply with directions to take X number of baby steps, ballerina steps, giant steps, scissor steps, spinning steps, crab steps, etc. The first youth to reach mother wins.
Play a variation of the game, where the children or youth don't ask mother, but instead ask "Father May I?"
Discussion
Who make the decisions in your house? Father or mother?
On what basis do parents make their decisions?
What are the possible consequences of making decisions on our own with guidance from parents?
Take it to the Next Level
Make it Spiritual
How is this game similar to walking with God? In the Bible, the word "walk" is often used to describe our relationship with the Heavenly Father. We don't stand still nor does God intend for us to go backwards. Sometimes God may ask us to take baby steps, and other times we may need to take a leap of faith. Just like the game, the outcome is a result of our paying attention to God's instructions and seeking permission before we move.
Make it Practical
In our relationship with the Heavenly Father, if we move without asking first, we may misstep, go in the wrong directions, or experience other unwanted consequences which take us away from the Father. Instead of moving nearer we end up farther away. We draw closer to God when we learn to listen to Him and seek his permission before we move.  Then the actions we take will bring us closer to Him!
Make it Personal
What step is God asking you to take today?
Does it feel like a baby or giant step?
Are you seeking God's voice, in the direction you are taking in life?
How can you become more attentive to his voice and his guidance?
What is an area of your life you need to seek God's permission and guidance in?
Scripture
My sheep recognize my voice; I know them, and they follow me. – John 10:27 (NIV)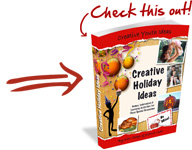 Holiday Collection


Games and Activities in Celebration of common Holidays.
Creative Holiday Ideas has over 300 pages of ideas to help you plan not only your next Father's Day event, but also other common holidays. If you've ever wondered what you're going to do for the holidays and how you're going to do it, this resource is for you.
=> Tell me more about the Holiday Collection

| | |
| --- | --- |
| | Rate This Post by Clicking the Stars : |