A church was preparing for Christmas services. The pastor decided he wanted a banner made for the entryway and had a parishioner call the sign company.
The parishioner told the man on the phone the "message" he wanted and the "dimensions" needed for the entryway.
The sign came back a few days later… "Unto Mary Jesus was born, six feet long and two feet wide."
[Source: Forwarded to Mikey's Funnies (http://www.mikeysfunnies.com) by Scott Sanderson]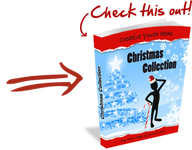 Christmas Collection


Games and Activities helping youth discover the Reason for the Season.
Get more than 200 creative ideas for planning a Youth Christmas celebration or Christmas Party party. You can immediately download my best Christmas Icebreakers, games, illustrations, Christmas activity ideas AND MUCH MORE in a useful ebook!

=> Tell me more about the Christmas Collection


| | |
| --- | --- |
| | Rate This Post by Clicking the Stars : |