Youth are illogical, unreasonable, and self-centered. Develop a trusting, caring relationship anyway.
If you develop an unconditional philosophy in loving your youth, you may be accused of selfish motives. Love without hooks anyway.
If you are sucessful in your teaching, you may generate jealousy and envy from some people. Succeed anyway.
The little things you do for your youth will be forgotten tomorrow. Do the little things anyway.
Having uncompromizeable convictions and beliefs make you old fashioned. Have them anyway.
Prophets of gloom and doom are eager to let you know there is no hope. Have hope anyway.
People center on negatives and few positives. Develop a positive mental attitude anyway.
The energies you expend in being successful can be destroyed overnight. Be energetic anyway.
Your youth really need guidance, but may reject you. Give guidance anyway.
Give your youth the best you have and you will experience mixed gratitude. Give them the best you have anyway.
Adapted from Gene A. Bedley, Former USA National educator of the year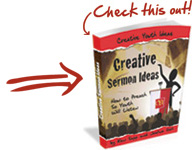 Get Help on Your Youth Sermons
Creative Sermon Ideas
This 100 Page e-Book Includes All The Help You Need To Prepare Powerful, Life-Changing Youth Sermons That Will Turn Your Preaching Around And Make Your Youth Sit Up And Listen! Includes 7 Complete Sermons.
–> I want More Youth Sermon Ideas…


| | |
| --- | --- |
| | Rate This Post by Clicking the Stars : |