When it's Christmas time, every business wants to show their Christmas spirit by having an office party. Sometimes as busy ministry staff we forget to have fun together in the church office. Why not also have an office party for the church staff?
The question is, what are you going to do? No one is going to want to play pin the tail on the donkey. That's lame. A good Christmas party needs good food and some Christmas games to play while you're mingling together as a church staff. What kinds of Christmas games are good for an office Christmas party though? You could play gift giving games or have different contests. There are also plenty of fun things to do together like decorating an office Christmas tree.
Door Prizes
First, there is always the solid "door prize give away", where you give away prizes for those names that get pulled out of a hat. Have a few extra gifts for those that forget to bring one. This ensures that no one goes home without something if they want a gift. While this isn't a exactly game, people love hearing their own name being called and they also love feeling like they've won something cool.
Gingerbread house
Another great idea for a church office party is to have a gingerbread house building contest. Gingerbread house kits are cheap and easy to get. You get a couple of kits and divide your staff into two groups. Then you have a contest to see who can build the best gingerbread house the fastest within a three or four minutes. Use a timer so that you'll know when to quit. Whoever has the best or most complete gingerbread house in the specified time frame gets a prize. You can also do this with mini Christmas trees and other "do it yourself" small projects, such as decorating cookies or stringing popcorn and cranberries.
Gift Exchange
Another good Christmas party game is a gift give away game. You pick names out of a hat to see whose turn it is to go. Each person has a small gift (provided by you, and it doesn't have to be expensive) under the tree so that there is something for everyone. Then when your name is called, the person picks a gift and opens it. Once it's opened, they can either keep the gift or give it to the next person. The next person picks out a gift for the first person and the first person HAS to keep it, even if it's inappropriate for their gender or size. This continues until all the names have been pulled out of the hat. It is interesting because if the first gift isn't kept it can often continue on until all the men have pink slippers and all the ladies in the office have packages of men's underwear. Did I say this was a church office party?
Having a church office party can be a disaster when you don't have any good party games to play or entertainment. With the games that are described above, you can have a lot of fun with just a few simple items and some willing party goers. If this doesn't work for your office, you can find more games online at Creative Christmas Ideas or convert other holiday themed party games into Christmas party games for adults. Blessed Holidays and good luck entertaining your church staff!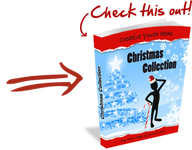 Christmas Collection


Games and Activities helping youth discover the Reason for the Season.
Get more than 200 creative ideas for planning a Youth Christmas celebration or Christmas Party party. You can immediately download my best Christmas Icebreakers, games, illustrations, Christmas activity ideas AND MUCH MORE in a useful ebook!
=> Tell me more about the Christmas Collection


| | |
| --- | --- |
| | Rate This Post by Clicking the Stars : |