Little Logan and his family were having Thanksgiving dinner at his grandmother's house. Everyone was seated round the table as the food was being served. When little Logan received his plate, he started eating right away.
"Logan, wait until we say our prayer," his mother reminded him.
"I don't need to," the little boy replied.
"Of course you do!" his mother insisted, "We say a prayer before eating at our house."
"That's at our house," Logan explained, "but this is Grandma's house, and she knows how to cook!"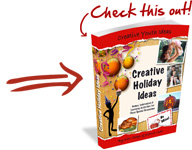 Holiday Collection


Games and Activities in Celebration of common Holidays.
Creative Holiday Ideas has over 300 pages of ideas to help you plan your next New Year's Day, Valentine's Day, Mother's Day, Father's Day, Halloween or Fall Festival, and Thanksgiving event. If you've ever wondered what you're going to do for all these holidays and how you're going to do it, this resource is for you.
=> Tell me more about the Holiday Collection


| | |
| --- | --- |
| | Rate This Post by Clicking the Stars : |