What NOT to Buy Your Wife
Although the only person a man usually shops for is his wife, the whole experience is a stressful one.
Don't buy anything that plugs in. Anything that requires electricity is seen as utilitarian.
Don't buy clothing that involves sizes. The chances are one in seven thousand that you will get her size right, and she will be offended the other 6999 times. "Do I look like a size 16?" she'll say. Too small a size doesn't cut it either: "I haven't worn a size 8 in 20 years!"
Avoid all things useful. The new silver polish advertised to save hundreds of hours is not going to win you any points.
Don't buy anything that involves weight loss or self-improvement. She'll perceive a six-month membership to a diet center as a suggestion that's she's overweight.
Don't buy jewelry. The jewelry your wife wants, you can't afford. And the jewelry you can afford, she doesn't want.
Finally, don't spend too much. "How do you think we're going to afford that?" she'll ask. But don't spend too little. She won't say anything, but she'll think, "Is that all I'm worth?"
Herb Forst in Cross River, NY, Patent Trader, in Reader's Digest, Page 69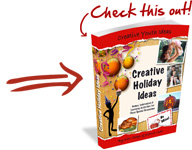 Holiday Collection


Games and Activities in Celebration of common Holidays.
Creative Holiday Ideas has over 300 pages of ideas to help you plan your next New Year's Day, Valentine's Day, Mother's Day, Father's Day, Halloween or Fall Festival, and Thanksgiving event. If you've ever wondered what you're going to do for all these holidays and how you're going to do it, this resource is for you.
=> Tell me more about the Holiday Collection


| | |
| --- | --- |
| | Rate This Post by Clicking the Stars : |