In many ways, Paul was a spiritual Father to Timothy, and his letters refer to him as his beloved son. He taught and mentored Timothy as his son in the faith! There is much we can learn from Paul's example in teaching Timothy!
Do what I did!
There's well known phrase heard today, "Do as I say, not what I do." But you would have never heard Jesus or Paul use those words. In fact, they would say "Do what I did!" In fact, Jesus said we would do even greater things than he did! To the church at Corinth, Paul said, "Imitate me, just as I also imitate Christ." — 1 Corinthians 11:1 So as a teacher, not only did Paul set an example for Timothy, but his own example was Christ himself!
Paul, as he mentored and taught his disciple Timothy, reminded him of this same truth, in his second letter to Timothy:
"Now you have observed my teaching, my conduct, my aim in life, my faith, my patience, my love, my steadfastness, my persecutions, my sufferings, what befell me at Antioch, at Iconium, and at Lystra, what persecutions I endured; yet from them all the Lord rescued me." (2 Tim 3:10-11 RSV)
When Paul says, "You observed," he uses a very strong Greek word, which means, "You came right along with me; You followed me in these things, you accompanied me through all of this; you saw all these things, now don't forget them."
Someone once said "Don't lead me; I may not follow. Don't walk behind me, I may not lead. Walk beside me and be my friend."
Actions Speak Louder than Words – Practice What You Preach
Paul taught Timothy not merely with words, but with his example. If you really want to know what someone believes, all you need to do is observe how they live life. Actions speak louder than words! Paul did not merely teach the truth; he lived it! You could see his teaching in his life, in his actions, in his behavior.
Reactions Speak louder than Actions
But his example didn't stop there. It is said that you can learn more about a person from their REACTIONS than from their ACTIONS. In a controlled situation anyone can live according to his stated ideas and standards. But if you really want to know what a person is made of, look at how they REACT to circumstances. Look at how they react when things are less than ideal. Look at how they handle the difficulties life throws their way!
It has been said that 10% of life is determined by our circumstances, but 90% of life comes from how we RESPOND to those circumstances.
So, not only was Paul's teaching and his actions involved, but so was his conduct in various circumstances. "You observed my conduct," he says. That means that when he was confronted with danger, persecution, and stress, he reacted in line with his teaching; he practiced what he preached. Paul controlled his temper, subdued his lusts, mastered his passions, conquered his fears, and forgave his enemies. He worked with his hands in order to not be a burden to others, he prayed for his friends, he kept himself growing and walking in his relationship with God.
He RESPONDED to LIFE as a living example of everything he taught! It doesn't mean he was perfect. In fact he admitted many times that he was far from it. His writings show his struggles as well as his victories! But that was why his example was so powerful. He was REAL! He was HONEST! In his life we can see ourselves and take hope, courage, and confidence from his example!
Live Life on Purpose
Paul lived his life according to PURPOSE! Paul tells us this goal, this aim, this purpose very clearly in 2 Corinthians 5:9. "So we make it our goal to please him, whether we are at home in the body or away from it." Everything Paul did in life was done with the understanding that he would please Christ! Charles M Sheldon wrote a book "In His Steps" in which the whole town began to ask the question, "What would Jesus Do?" and examined the results if we would make that simple question determine our actions. That same question has become a movement today with bracelets, necklaces and a myriad of other items reflecting the question: WWJD – What would Jesus Do?
Your Life and Your Teaching are Inseparable
Paul spoke to Timothy often of his teaching and his example. For him they were inseparable.
"What you heard from me, keep as the pattern of sound teaching, with faith and love in Christ Jesus." (1 Timothy 1:13)
"And the things you have heard me say in the presence of many witnesses entrust to reliable men who will also be qualified to teach others. (2 Timothy 2:2)
"But as for you, continue in what you have learned and have become convinced of, because you know those from whom you learned it, and how from infancy you have known the holy Scriptures, which are able to make you wise for salvation through faith in Christ Jesus. (2 Timothy 3:14-15)
So next time, don't just focus on the lesson plan you intend to teach, but also focus on the life that you live, the example that you set, so that you can also say as Paul said,
"IMITATE ME as I imitate CHRIST!"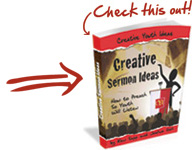 Get Help on Your Youth Sermons
Creative Sermon Ideas
This 100 Page e-Book Includes All The Help You Need To Prepare Powerful, Life-Changing Youth Sermons That Will Turn Your Preaching Around And Make Your Youth Sit Up And Listen! Includes 7 Complete Sermons.
–> I want More Youth Sermon Ideas…

| | |
| --- | --- |
| | Rate This Post by Clicking the Stars : |