Doctors and scientists said it was impossible!
Man could not run a mile in less than 4 minutes!
He would die in the foolish attempt.
It was an Impossible Dream.
Our bone structure was wrong.
Wind resistance was too great.
We had inadequate lung power.
Our heart could not take the strain.
25 year-old Roger Bannister wasn't listening.
He endured thousands of monotonous laps,
Around the same university track,
Determined to shape his body and his mind.
May 6, 1954, at Oxford University in England,
Was viewed as simply another attempt,
In a history of foolish attempts,
To achieve the Impossible Dream.
Yet at the end of the race the stop-watches held a different view.
The results were announced.
'Result of one mile… time, 3 minutes…'
The rest was lost in the roar of the crowd.
Roger Bannister blazed across the finish line,
In a time of 3 minutes, 59.4 seconds.
The Impossible Dream was now an event for the history books,
Considered one of the greatest feats in sports history.
46 days after Bannister's breakthrough,
The record was broken again by a different runner.
By the end of 1957,
16 runners had achieved the Impossible.
Runners did not suddenly get "better" in those few short years.
They simply began to believe.
Running a mile in less than four minutes was not only possible,
It had been achieved!
To date, 955 runners have achieved the Impossible Dream
Accomplishing the feat an incredible 4700+ times.
Many of life's barriers and obstacles come from within.
We create limits for ourselves.
But once those barriers are broken,
We realise the biggest barriers are our beliefs.
What beliefs are keeping you from achieving your dreams?
Don't accept them. Don't listen to the voices of doubt.
Forge ahead in faith and you too
Can achieve Impossible Dreams!
"Jesus looked at them and said, "With man this is impossible, but with God all things are possible."
-Matthew 19:26
"But when he asks, he must believe and not doubt, because he who doubts is like a wave of the sea, blown and tossed by the wind. That man should not think he will receive anything from the Lord…"
– James 1:6-7
Copyright 2005 by Ken Sapp
Take it to the Next Level
Belief plays a significant part in the life of believers.  We believe in Christ for salvation.  And through our faith in Him, God does the impossible.  As William Carey, pioneer missionary of the modern missions movement, said, "Expect great things from God, attempt great things for God."
And like Roger Bannister we may have seemingly impossible dreams. As William Carey, pioneer missionary of the modern missions movement, said, "Expect great things from God, attempt great things for God." Unlike Roger Bannister, we don't do things for earthly accolades, but for the rewards of heaven, that one day we might stand before God and hear, 'Behold my servant, in whom I am well pleased."
Applying it to life
What are some of the things the world sees as impossible that God does in the lives of youth today?

What barriers and doubts do youth face in the Christian journey?

What is something you need to believe God for in your life?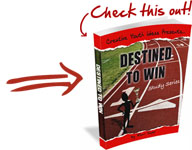 Destined to Win
Need a Youth Camp/ Bible Study Series on "Running the Christian Race"?
Our "Destined to Win" series is a great follow up for youth who are new Christians or to emphasize the basics of our spiritual Journey in the Faith. This Bible Study / Camp Curriculum / Small Group Study has a sports theme and is great for athletes and works well as a tie in to the Olympics.
->Tell me about "Destined to Win"


| | |
| --- | --- |
| | Rate This Post by Clicking the Stars : |