Hymn: "Rescue the Perishing" by Fanny Crosby
"I remember writing the hymn in 1869. It was written following a personal experience at the New York City Bowery Mission. I usually tried to get to the mission at least one night a week to talk to 'my boys.' I was addressing a large company of working men one hot summer evening, when the thought kept forcing itself on my mind that some mother's boy must be rescued that night or he might be eternally lost. So I made a pressing plea that if there was a boy present who had wandered from his mother's home and teaching, he should come to me at the end of the service. A young man of 18 came forward – 'Did you mean me, Miss Crosby? I promised my mother to meet her in heaven, but as I am now living, that will be impossible.' We prayed for him and suddenly he arose with a new light in his eyes – 'Now I am ready to meet my mother in heaven, for I have found God.'"
(Source: Fanny Crosby's Story – S. Trevena Jackson p.76)
Rescue the Perishing
Rescue the perishing, care for the dying,
Snatch them in pity from sin and the grave;
Weep o'er the erring one, lift up the fallen,
Tell them of Jesus, the mighty to save.
Down in the human heart, crushed by the tempter,
Feelings lie buried that grace can restore;
Touched by a loving heart, wakened by kindness,
Chords that are broken will vibrate once more.
Rescue the perishing, duty demands it;
Strength for thy labor the Lord will provide;
Back to the narrow way patiently win them;
Tell the poor wand'rer a Savior had died.
Rescue the perishing, care for the dying;
Jesus is merciful, Jesus will save.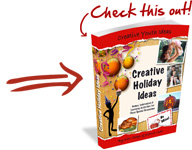 Holiday Collection


Games and Activities in Celebration of common Holidays.
Creative Holiday Ideas has over 300 pages of ideas to help you plan your next New Year's Day, Valentine's Day, Mother's Day, Father's Day, Halloween or Fall Festival, and Thanksgiving event. If you've ever wondered what you're going to do for all these holidays and how you're going to do it, this resource is for you.
=> Tell me more about the Holiday Collection


| | |
| --- | --- |
| | Rate This Post by Clicking the Stars : |