Verse:
My Savior, Redeemer
Lifted me from the miry clay
Almighty, forever
I will never be the same
Pre-Chorus:
'Cause You came near,
From the everlasting
To the world we live.
The Father's only Son,
Chorus:
You lived, You died,
You rose again on high.
You opened the way,
For the world to live again.
Hallelujah,
For all You've done.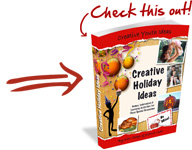 Holiday Collection


Games and Activities in Celebration of common Holidays.
Creative Holiday Ideas has over 300 pages of ideas to help you plan your next Thanksgiving youth event. If you've ever wondered what you're going to do for various common holidays and how you're going to do it, this resource is for you.
=> Tell me more about the Holiday Collection


| | |
| --- | --- |
| | Rate This Post by Clicking the Stars : |